Palestine
Thousands mourn Palestinian teen killed at Qalandia checkpoint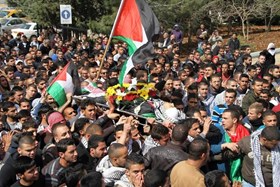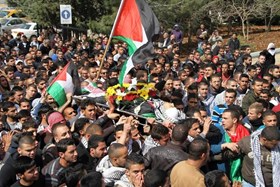 Thousands of mourners attended the funeral of Muhammad al-Kasbah, 17, who was cold-bloodedly killed by Israeli fire Friday morning near Qalandia refugee camp to the north of occupied Jerusalem.
Al-Kasbah was shot with two bullets in the head and chest while trying to direct the movement of vehicles near Qalandia checkpoint that links between Ramallah and occupied Jerusalem.
The funeral march went from the Palestine Medical Center in Ramallah to al-Kasbah's house in Qalandia refugee camp before his body was carried to the camp's mosque.
During the funeral, mourners called for strong response to the Israeli continued crimes against Palestinians, while armed masked men opened fire in the air.
The victim is the brother of Yaser and Samer al-Kasbah, who were killed by Israeli soldiers in Qalandia refugee camp in May 2002.