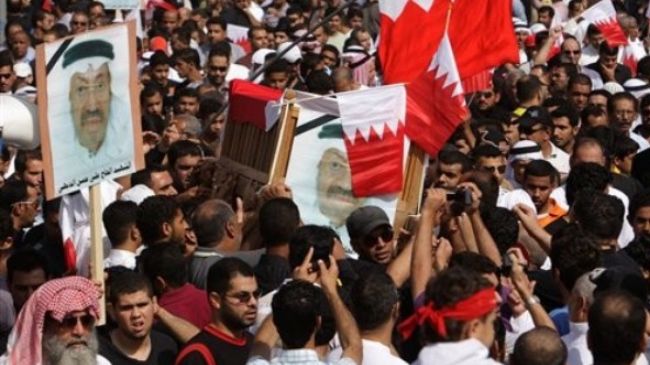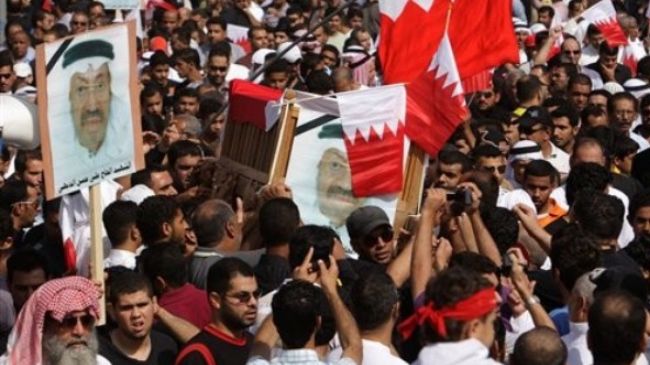 Thousands of Bahrainis have attended the funeral procession of an anti-government protester killed by Saudi-backed regime forces near the capital, Manama.
Bahraini demonstrators also chanted slogans against the ruling Al Khalifa dynasty and Saudi Arabia on Monday as they mourned for 27-year old Sabri Mahfud, who died one day earlier due to inhalation of tear gas fired by regime forces on protesters north of Manama.
Mahfud died a day after another Bahraini, 41-year-old Ja'far Jassim Radhi, also died after inhaling tear gas in the village of al-Muqsha. Witnesses say regime forces attacked Radhi's funeral, which was held on Sunday, after mourners chanted anti-government slogans and condemned violence used by security forces to disperse demonstrations.
Bahraini troops heavily rely on tear gas and stun grenades to disperse peaceful anti-government protesters. Several Bahraini civilians, mostly senior citizens and kids, have also died from asphyxia after regime troops fired tear gas in residential areas and into homes in violation of international standards that Bahrain is a signatory to.
Amnesty International has warned about the Bahraini government's misuse of tear gas against anti-regime protesters and has called for an investigation into the tear gas-related deaths.
Bahrainis have been staging demonstrations since mid-February 2011, demanding political reform and a constitutional monarchy, a demand that later changed to an outright call for the ouster of the ruling Al Khalifa family following its brutal crackdown on popular protests.
Scores of people have also been killed and many others have been injured in the Saudi-backed crackdown on peaceful protesters in Bahrain.