Syria
Thousands of Civilians Evacuated from Aleppo, Terrorists Surrender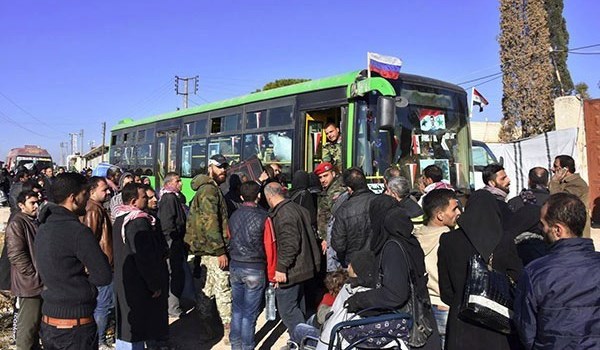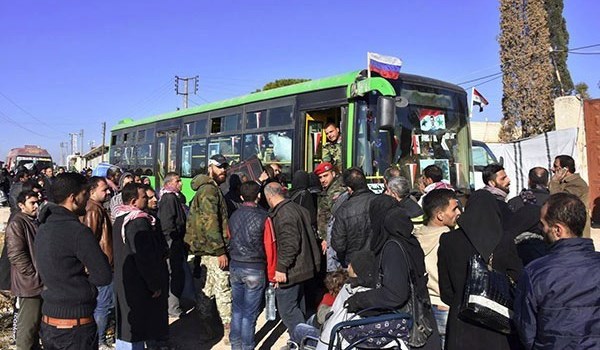 The RPC Center in Syria announced on Sunday that evacuation of civilians from militant-held districts of Eastern Aleppo city has been underway, while hundreds of militants have given up fight against the Syrian Army.
The Russian DM quoted the Peace Coordination Center as announcing that over 2,100 civilians have been evacuated from the militant-held regions in Eastern Aleppo during the last night, while almost 300 militants have laid down arms and have surrendered themselves to government officials.
"The Russian center for Syrian reconciliation continues providing humanitarian assistance to local residents leaving militants-controlled Eastern Aleppo neighborhoods, Overnight… 2,124 city residents left Aleppo districts controlled by militants including 1,007 children. A total of 291 militants laid down their arms and left for the Western part of the city," the Russian Defense Ministry's spokesman Maj. Gen. Igor Konashenkov told reporters on Sunday.
"The Russian center for reconciliation has organized evacuation of another 8,000 civilians from Eastern Aleppo districts through humanitarian corridors," Konashenkov said, adding that all of them are being admitted at special humanitarian centers and provided with food and medical aid.
Konashenkov announced on Saturday that almost 50,000 civilians were evacuated from militant-held districts of Eastern Aleppo in two days.
"Approximately 50,000 civilians, including children, left the militant-held districts of Eastern Aleppo city in last 48 hours," Konashenkov said, adding, "Syrian government forces will start their anti-terrorism offensives once evacuation of people from Aleppo's Eastern districts ends."
He further underlined that non-stop exit of civilians was underway continuously through the specified humanitarian corridors, and continued, "The Russian Peace Coordination Center in Syria is monitoring evacuation of civilians from besieged districts of Aleppo by drones."
 "More than 20,000 residents left Eastern Aleppo in the first phase on Saturday, and 1,217 militants laid down their weapons," Konashenkov said
"The Russian Center for Reconciliation, through humanitarian corridors near Karim El-Hun and Mahayar, has organized the evacuation of civilians from the Eastern parts of Aleppo to the safe areas of the city," he added.
"We are appealing to those who have been for months announcing their readiness to send humanitarian aid to Aleppo: the representatives of the United States, Britain, France, Canada, the European Union and international organizations… It's time to back up your promises," the spokesperson underscored.
A field sources said that halt in military operation does not mean ceasefire but it only can slow down army operations and missile or artillery attacks on terrorists' position in the Eastern districts of Aleppo to pave the ground for the exit of civilians from the remaining district in Southeastern Aleppo that are still under militants' control.
The terrorist groups targeted the districts of Bostan al-Qasr (Bustan al-Kaser) and al-Sukri by mortar shells and explosive gas cylinders to prevent evacuation of civilians and meantime provoke the army men to start operation against militants.