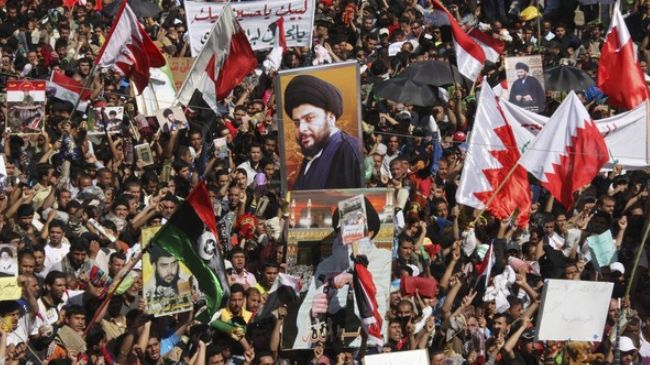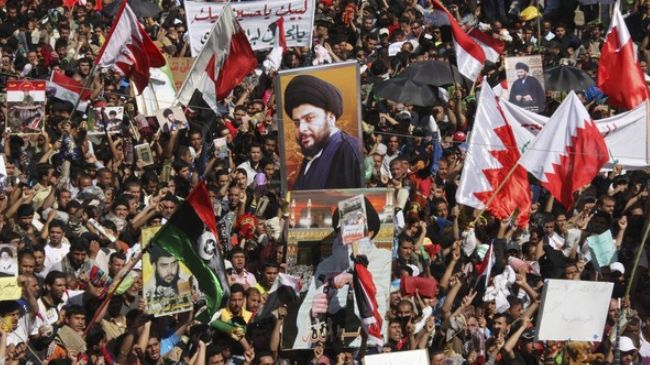 Thousands of Iraqis have marched in the eastern Sadr City area of the capital, Baghdad, to express supports for the revolution in Bahrain, Press TV reports.
Carrying flags of Bahrain and Iraq, the demonstrators also condemned Manama's brutal crackdown on protests and called for the release of political prisoners in Bahrain.
They also chanted anti-Riyadh slogans, criticizing Saudi Arabia for assisting Manama in suppressing protests.
Iraqi demonstrators also called on the government to put the Bahrain uprising on the agenda of the next Arab League summit, which is scheduled to be held in Baghdad later this month, and to prevent the Bahraini king from attending the meeting over his brutal crackdown on protesters.
A number of Iraqi officials, tribal leaders and clerics also attended the rally which was organized by the Sadr movement.
Since the beginning of anti-regime protests in Bahrain last year and the subsequent Saudi-backed crackdown, Iraqis have held several demonstrations in support of Bahraini protesters.
Bahrainis have been staging demonstrations since mid-February 2011, demanding political reform and constitutional monarchy, a demand that later changed to an outright call for the ouster of the ruling Al Khalifa family following its brutal crackdown on popular protests.
Scores of people have also been killed and many others have been injured in the Saudi-backed crackdown on peaceful protesters in Bahrain.
The Bahrain Independent Commission of Inquiry issued a report on November 23, 2011, saying that the Manama regime had used "excessive force, including the extraction of forced confessions against detainees."