Africa
Thousands of the supporters of Tunisian opposition have started a week of mass protests, calling for the downfall of the government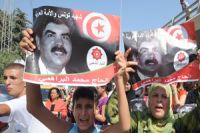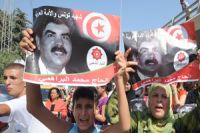 Thousands of the supporters of Tunisian opposition have started a week of mass protests, calling for the downfall of the government.
Thousands of people have joined what they call the "Rahil" or "Departure" march, which calls for a week of nationwide demonstrations and sit-ins in the North African country.
A large number of demonstrators held a protest rally in front of some government buildings in the capital city of Tunis on Saturday night.
A coalition of opposition parties, known as the National Salvation Front, has called for a new government of technocrats to run the country and organize snap elections.
Meanwhile, Tunisia's Prime Minister Ali Larayedh said on Tuesday that he would not tolerate violence during protests planned by the opposition and aimed at demanding the resignation of his government.
Following the assassination of Tunisian lawmaker Mohamed Brahmi last month, the opposition has escalated its protest movement, demanding the downfall of the government.
Several opposition groups have staged protest rallies and a general strike over the latest political assassinations in the North African country.
The authorities have deployed a large number of police forces in the region to deal with any security threats.
Tunisia, the birthplace of pro-democracy protests across North Africa and the Middle East, is struggling with a democratic changeover after the overthrow of its dictator in 2011.