North America
Thousands of US teachers strike to demand higher pay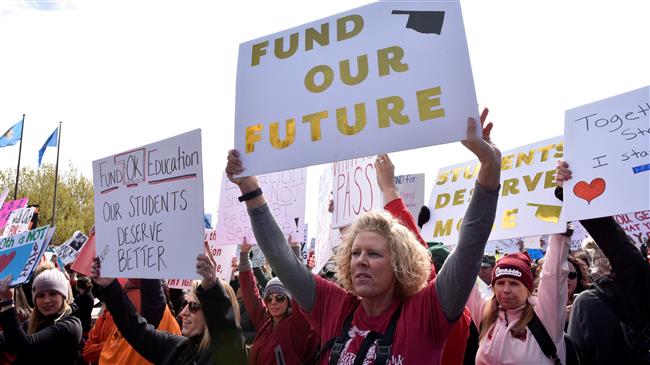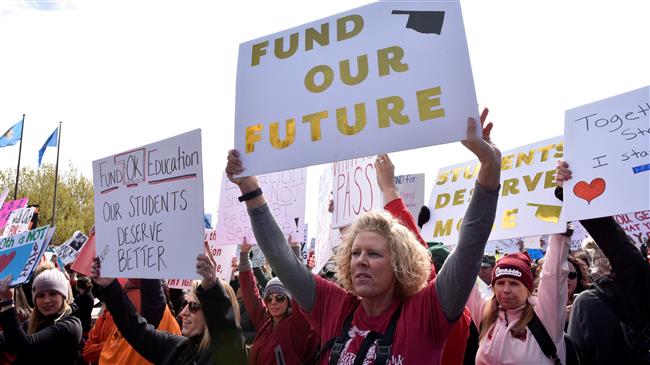 Thousands of teachers have staged a protest rally for a second day in different parts of the US state of Oklahoma, demanding higher pay and increased education funding.
An estimated 30,000 educators walked off their jobs across the Midwestern state on Tuesday and classes for some 500,000 public school students were canceled.
Educators gathered in the state capital, Oklahoma City, chanting "fund our schools," and "we're not leaving."
Oklahoma's largest teachers union has called for a $10,000 pay raise for teachers over the next three years and is also seeking an increase of $75 million in state education funding.
The president of the Oklahoma Education Association, Alicia Priest, called on all teachers to join the protest to pressure lawmakers to act.
"We will not continue to be ignored," Priest said in a message posted on Facebook. "Educators will continue to walk until we get a deal that our students deserve."
The Oklahoma governor, Mary Fallin, signed legislation last week to grant educators a raise of 15 to 18 percent; however, many said the amount was not good enough and decided to walk out.
"We all pay taxes and expect our legislators to do what we voted them in to do," said Frederick Smitherman, a 48-year-old educator. "What else are teachers supposed to do besides yell and scream? We can vote them out but voting one out just brings a bad one in instead."
In 2016, the National Education Association ranked Oklahoma among the bottom five states in the US in terms of per-student expenditure and average teacher salaries.