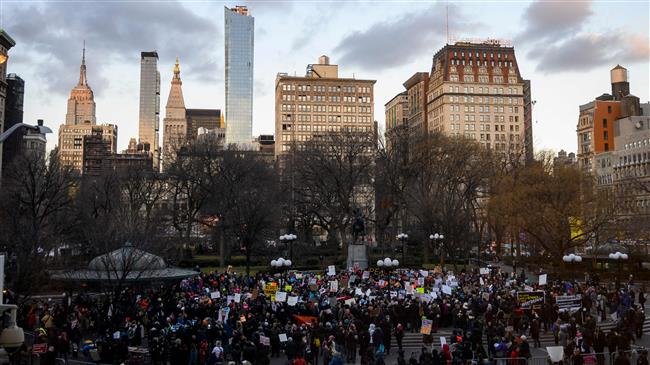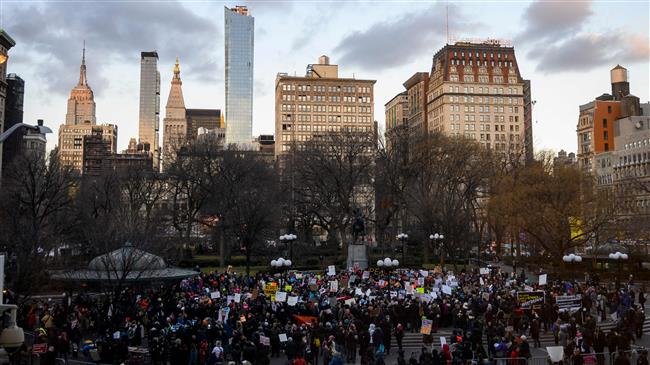 Thousands of people have thronged the streets across the United States on Presidents' Day to express their outrage at President Donald Trump's declaration of a "fake" national emergency which is aimed at funding his controversial border wall.
Hundreds of demonstrators gathered outside the White House on Monday chanting, "Trump is the national emergency!" while others held up large letters spelling out "Stop power grab."
In New York City, hundreds converged on Manhattan park while chanting "No hate, no fear, immigrants are welcome here." They also held up signs that called for Trump's impeachment.
A smaller group of protesters in downtown Fort Worth, Texas, carried signs that read "No wall! #FakeTrumpEmergency."
Over 100 protesters in Denver, Colorado braved frigid weather and marched to the state Capitol to support a bid by Governor Jared Polis and Attorney General Paul Weiser to join a multi-state lawsuit against the decision.
Polis and Weizer, both Democrats, said the emergency declaration could take away millions of dollars from their state.
There were counter-protests held in some areas including in Washington, where the two sides even engaged in a brief scuffle.
Organized by MoveOn and several other activist groups, Monday's rallies used the occasion to slam the proclamation as undemocratic and harmful to immigrants.
Trump's announcement on Friday came after Democrats in Congress refused to give him the $5.7 billion he demands for the wall on US-Mexico border. The showdown resulted in the longest ever partial shutdown of the US government which began on December 22 and lasted for 35 days.
To avert a second shutdown, Trump agreed last week to sign a new spending bill which only allocated $1.3 billion for border barriers, much less that what he had requested.
The emergency declaration, however, gives the president the authority to shave off around $8 billion from the military budget to build the wall if he manages to overcome the barrage of lawsuits coming his way.
Upon signing his national emergency directive, Trump predicted that he was going to face many legal challenges.
"We will possibly get a bad ruling, and then we'll get another bad ruling and then we'll end up in the Supreme Court," Trump said, predicting that "we will get a fair shake" and will win at the high court, where conservative judges hold a 5-4 majority.
"I didn't need to do this, but I'd rather do it much faster," he added, referring to the construction of the wall, a central promise of his 2016 presidential campaign.
'No basis for national emergency'
Democrats and other opponents argue that Trump's reasoning for declaring a crisis on the southern border is flawed and therefore the decision undermines the Congress's budgetary powers.
His emergency proclamation describes the border with Mexico as "a major entry point for criminals, gang members, and illicit narcotics."
"There is zero real-world basis for the emergency declaration, and there will be no wall," said New Mexico Governor Lujan Grisham, another Democrat who is also involved in the multi-state attempt.
Several states are expected to join a California lawsuit against the Trump administration over emergency declaration.
Kelly Quirk, of the progressive group Soma Action, told protesters in Newark, New Jersey, that "democracy demands" saying "no more" to Trump and his policies.
"There are plenty of real emergencies to invest our tax dollars in," said Quirk.
Manar Waheed, from the American Civil Liberties Union (SCLU), told protesters that Trump had declared emergency because he needed money for his "border wall obsession." The ACLU has also announced plans to sue Trump.
Ana Maria Archila, co-executive director of the left-leaning Center for Popular Democracy, went even further, saying Trump wanted to "steal money that we desperately need to build a country of our dreams so that he can build a monument to racism along the border."