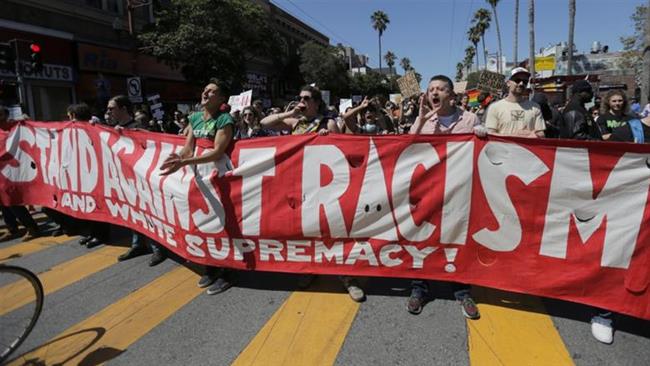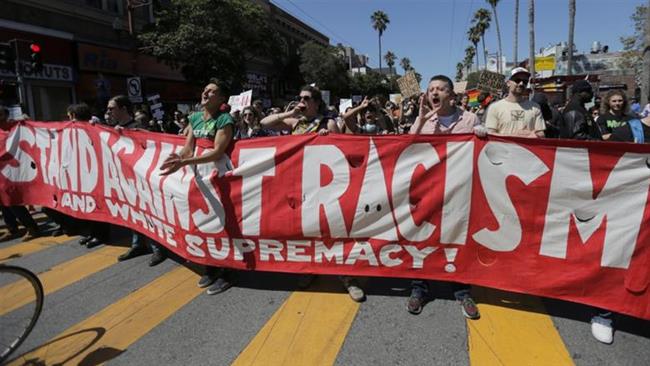 Hundreds of people opposing a right-wing gathering have held protests in the US city of San Francisco to condemn white supremacists and bigotry.
The protesters gathered at Alamo Square Park on Saturday in spite of the cancellation of the right-wing rally and a press conference by leader of Patriot Prayer Joey Gibson amid fears of fresh clashes.
Gibson Friday cancelled the so-called Freedom Rally over fears of a "huge riot," saying the group would instead hold a press conference on Saturday in Alamo Square Park.
However, after police surrounded the park with a fence earlier in the day to screen people as they entered, Gibson said the event would be held indoors at a different location.
He eventually went to Crissy Field, the site of the originally scheduled rally, where there were two dozen supporters, who themselves were forced to leave the area after being confronted by counterprotesters.
Around Alamo Square park, protesters were chanting, "Whose streets? Our streets!"
"Right now, this is victory," protester Benjamin Sierra told The Associated Press. "They did not have enough gumption to do what they set out to do."
"San Francisco as a whole, we are a liberal city and this is not a place for hate or any sort of bigotry of any kind," said protester Bianca Harris.
Mayor Ed Lee defended the city's response, saying, "If people want to have the stage in San Francisco, they better have a message that contributes to people's lives rather than find ways to hurt them."
"That's why certain voices found it very difficult to have their voices heard today," he added.
The new demonstrations come after deadly clashes erupted between the two groups in Charlottesville, Virginia two weeks ago.
On August 12, thousands of white supremacists, KKK members and neo-Nazis descended on Charlottesville for a "Unite the Right" rally. The march turned violent after a 20-year-old man plowed his vehicle into a group of counter-demonstrators protesting against racism, killing a woman and injuring 20 others.