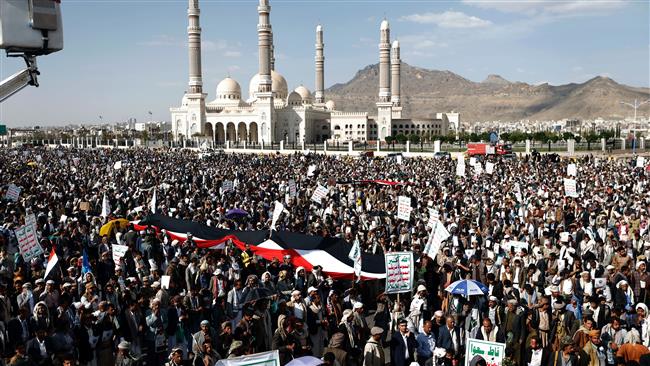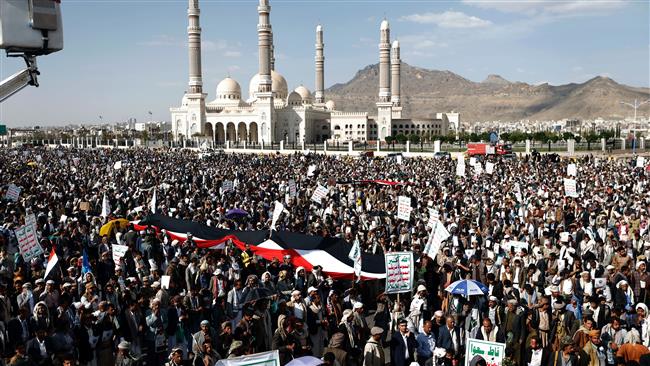 Thousands of people have gathered on the streets of Sana'a to protest the US's participation in Saudi Arabia's relentless war against Yemen.
The Saturday mass protests coincided with a trip by US President Donald Trump to Riyadh, in which he finalized an arms deal with Saudi Arabia worth almost $110 billion.
During the protests, people could be seen holding banners which read. "USA thrives on stealing other nations, killing, crime, and causing destruction."
"We are here today to say no for American terrorism. No for American terrorism. No for American terrorism. And we would also say, to the people in Riyadh, what did [the] Saudis achieve in two years and a half? Nothing. They did not achieve anything. Just killing, destruction," said a protester.
Another protester stressed that Saudi Arabia "will suffer a humiliating defeat, with or without US and Israeli support."
The demonstrators also hailed the ballistic missile attack launched by the Yemeni forces against Riyadh just hours before Trump's arrival in the Saudi capital.
Since March 2015, Saudi warplanes have been bombarding Yemen heavily in an attempt to crush the popular Houthi Ansarullah movement and reinstate the resigned president, Abd Rabbuh Mansur Hadi.
Latest tallies show that the imposed war has so far killed over 12,000 Yemenis and wounded thousands more. The Saudi aggression has also taken a heavy toll on the country's facilities and infrastructure, destroying many hospitals, schools, and factories.
Nearly 3.3 million Yemenis, including 2.1 million children, are currently suffering from acute malnutrition, while more than seven million people are grappling with starvation. The figures, however, could drastically increase if the Saudi war machine continues to breathe fire on Yemeni people.