Iran
Middle East
Thousands provided with relief in flood-hit Iran province
Around 108,000 flood-stricken people have been provided with relief during outreach operations in Iran's southeastern Sistan and Baluchestan Province, where unprecedented torrential downpours have left a trail of destruction.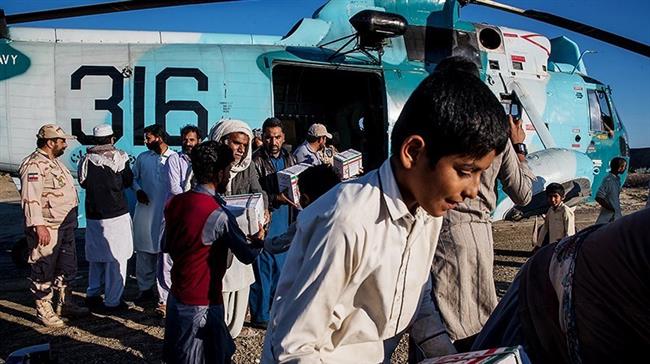 Rasoul Rashki, CEO of the province's Red Crescent Society, announced the figure to IRNA on Tuesday, saying the society began the relief operations on January 11.
Two days earlier, the province had begun experiencing precipitation that exceeded the level of last year's downfall by 26 times.
The official said as many as 1,017 villages had been damaged in 15 counties across the province, adding that more than 4,000 relief workers had successfully given assistance to the people there. Two relief helicopters, meanwhile, carried out 150 sorties to afflicted areas and rough terrains, most of which were destined to the province's Chabahar County, he noted.
Rashki also said that 12,450 affected people had been housed in makeshift shelters during the same period.
President Hassan Rouhani paid a one-day visit to the province on Saturday to monitor the ongoing relief operations, attending a session of the Coordination Council of the province's Crisis Management Headquarters. The president was accompanied by several ministers during the stay.
Iran's president visits flood-hit Sistan & Baluchestan ProvinceIran
At the meeting, Rouhani said he "takes pride" in the fact that water and electricity was restored in the flood-hit areas in the space of one week.
He said 14,000 urban and rural residences were to be rebuilt across Sistan and Baluchestan, and ordered the Energy Ministry to expedite the completion of two dams in the province.
The chief executive considered Sistan and Baluchestan to "lie at the forefront of Iran's security," and expressed gratitude towards the military servicemen, including those of Iran's Islamic Revolution Guards Corps (IRGC), who had joined the relief work.