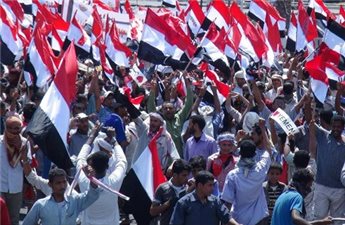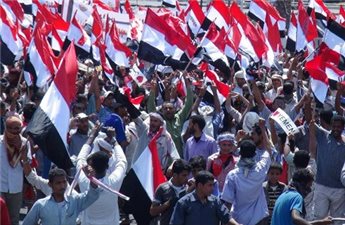 Thousands demonstrated in south Yemen's main city Aden on Saturday to demand a return to independence, a day after President Abdrabuh Mansur Hadi said only autonomy was on the table.
Thousands rally for south Yemen independence
The rally in central Parade Square came as southerners marked the anniversary of the end of British colonial rule in 1967, which created an independent state that lasted until union with the north in 1990.
Demonstrators waved southern flags and banners proclaiming: "Yes to Freedom and Independence," and: "Our Goal is the Reclamation of Statehood."
Security forces set up checkpoints across the city and on its outskirts to control the large number of demonstrators who poured in from adjacent provinces, but kept their distance from the rally itself.
Fuad Rashed of the hardline, pro-independence wing of the Southern Movement, which organised the rally, told AFP: "We are determined to pursue our peaceful struggle to achieve our demand."
At the end of the rally, organizers read out a statement calling on Yemen's oil-rich Gulf neighbors and the United Nations to help convene a "south-north dialogue under international supervision".
The Southern Movement also has a more moderate wing, which is ready to accept autonomy within a federal Yemen, but on condition that it be one of just two component units, north and south.
The moderates quit a national dialogue earlier this month in protest at proposals for multiple units for the north to reflect the divisions between its mainly Zaidi Shiite northern highlands and mainly Sunni southern highlands and coast.
The southerners fear that such an arrangement would dilute their power in a federal system.
In a speech late Friday to mark the independence anniversary, Hadi, who is himself a southerner, said there could be no question of renewed statehood for the south.
"Yemen's unity will continue to be a sacred value," he said, adding that those who advocated secession lived in a world of "illusion."
Union in 1990 was followed by a secession attempt by southern leaders in 1994 that sparked a brief but bloody civil war.
The conflict ended with an occupation of the south by northern forces that laid the ground for many of the disputes over land and jobs that still fan southern resentment.
Southern grievances are one of the main issues facing the national dialogue, alongside those of Zaidi rebels in the north.
The national dialogue, which had been due to end in September, is aimed at paving the way for the drafting of a new constitution, followed by general elections in 2014.
It is part of a UN-backed transition process that saw strongman Ali Abdullah Saleh step down in early 2012 after 33 years in power in Sanaa following 11 months of deadly Arab Spring-inspired protests.
The transition government is also facing a persistent insurgency by al-Qaeda, which took advantage of the unrest to seize large swathes of the south and east and remains active despite an offensive by the army last year and intensified US drone strikes.