Yemen
Thousands Rally for South Yemen Independence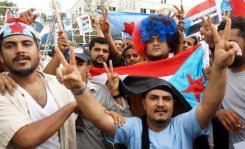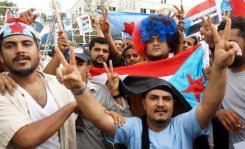 Thousands of separatists demanding secession took to the streets of Aden on Saturday to mark the anniversary in 1967 of the independence of former South Yemen.
The demonstrators came from across the south and gathered on Parade Square in the centre of Aden, waving flags of the former South Yemen and carrying banners with pro-independence slogans.
Security forces watched the crowds from a distance, particularly around public buildings and police and army posts.
Some protesters chanted slogans denouncing the national dialogue, talks aimed at drawing up a new constitution and preparing for elections, and which have faltered partly because of the southern issue.
After the former North and South Yemen united in 1990, the south broke away in 1994, triggering a brief civil war that ended with the region being overrun by northern troops.
The southern question is still contentious and has been a stumbling block for Yemen's national dialogue, in which moderate members of the Southern Movement had been taking part demanding greater autonomy.
The talks, which opened in March and were due to close on September 18, accepted the principle of a federal state but President Abdrabuh Mansur Hadi and northern delegates suggested it should comprise several entities.
But secessionists from the south are demanding a federal state made up of a north and south only.
The talks are part of a transitional process stipulated by a UN-backed initiative, brokered by neighboring Gulf countries, which ended a year of Arab Spring-inspired protests and eased former autocratic president Ali Abdullah Saleh out of office in February 2012, after 33 years in power.