Palestine
Thousands rally in Tel Aviv against Israel war on Gaza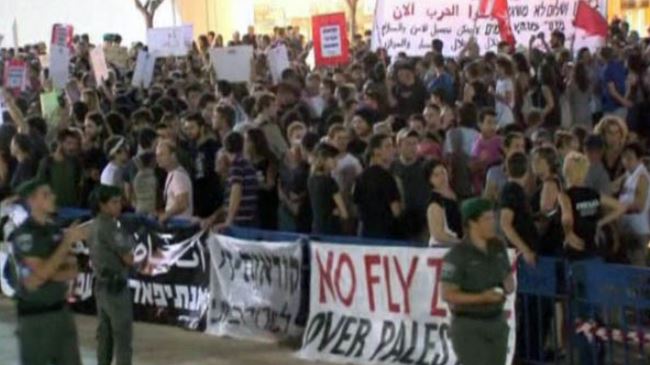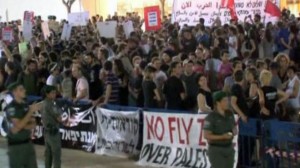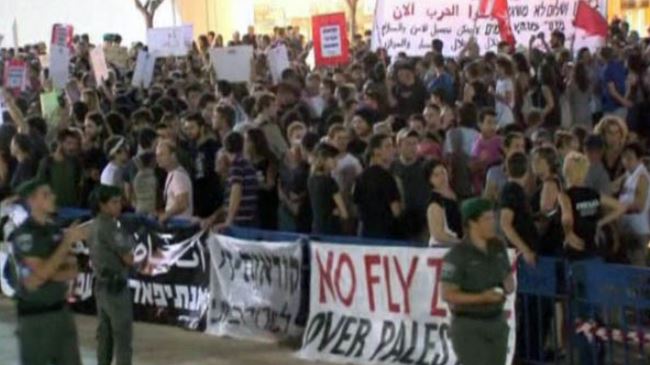 Thousands of Israelis have taken to the streets in Tel Aviv to condemn the incessant military strikes against the Palestinians in the besieged Gaza Strip, which have killed more than 1,000 people and wounded many more since July 8.
On Saturday, as many as 5,000 people, mostly left-wing and anti-war activists, participated in the protest at the Rabin Square despite police calls urging the demonstrators not to attend the rally.
The protesters carried banners reading "End the Occupation" and "Stop the Massacre in Gaza."
They also chanted anti-war slogans such as "Bury the rifles, not the children," and "Enough killing," and censured Israeli officials for what they called dragging Israel into repeated wars and military conflicts.
At least four demonstrators were arrested after they tried to block a nearby street.
Earlier in the day, pro-war activists called for a counter-demonstration but Israeli media reports say only a few dozen people attended the rally.
Public outrage against Israel's massive offensive against the Gaza Strip led to demonstrations around the globe on Saturday.
Protesters also took to the streets of the two major Canadian cities of Ottawa and Toronto to criticize Israel for its attacks against Gaza. Similar demos were also staged in London, Paris, and Edinburgh.
The Palestinian death toll has reached about 1,050 from three weeks of Israeli strikes and at least 6,000 Palestinians have been injured in the onslaught.
Israeli warplanes have been carrying out airstrikes against the blockaded Gaza Strip since July 8. On July 17, thousands of Israeli soldiers launched a ground incursion into the densely-populated coastal sliver as well.
The Ezzedine al-Qassam Brigades, the military wing of the Palestinian resistance movement Hamas, has been launching retaliatory attacks against Israel.