Palestine
Thousands take part in Hamas's anniversary festival in Qalqiliya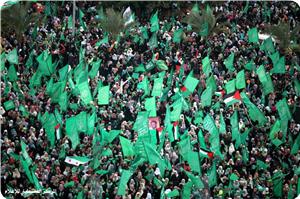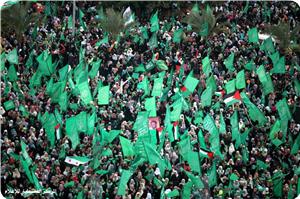 Thousands of Palestinians attended on Saturday the 25th anniversary festival of Hamas Movement that was staged in Qalqiliya city.
The masses waved green flags of Hamas and chanted slogns in support of Hamas and its armed wing Al-Qassam Brigades.
The streets and roads of Qalqiliya city was also adorned with Hamas green flags and banners for the first time in five years.
During the ceremony, Hamas-affiliated lawmaker Naser Abdul Jawad highlighted that his Movement returned to the West Bank to celebrate its 25th anniversary after lean years of absence.
Abdul Jawad affirmed the massive participation in this festival reflected the popular rallying around Hamas.
The lawmaker also called on the Palestinian authority to allow the Palestinian legislative council to convene and end its restrictions on Hamas's organizational activities in the West Bank.
In this regards, different Israeli political and media circles expressed their shock and dismay over letting Hamas and its supporters hold its 25th anniversary celebrations in the West Bank.
Among them was the military analyst for Yedioth Ahronoth newspaper Alex Fishman who said that the massive participation of Palestinian citizens in Hamas's anniversary festivals in different West Bank areas shocked many security and military officials who expressed their fears over its undying popularity.
Former Shin Bet official Eyal Hasson also said in a talk show held by Israel's channel 10 that Hamas knows how to take advantage of the changes in the region, adding that the Arab Spring uprisings and the Israeli war on the Gaza strengthened Hamas.
Hasson noted that the election of Egyptian president Mohamed Morsi and the rise of a pro-Palestinian Turkish leader like Recep Erdogan were among many changes that served Hamas in the region as well.
He considered that the strong return of Hamas to the West Bank as it appeared in its festivals there reflected that the security cooperation for long years between the Palestinian authority and Israel failed to eliminate Hamas and the popular rallying around it.
The official expressed his belief that any future Palestinian elections in the West Bank would bring Hamas again to the fore.
The Hebrew radio also quoted a senior Israeli military officer as saying that the calm that had prevailed in the West Bank came to an end after Hamas resumed its activities there.
The Israeli officer attributed the main cause of the violence that started in the West Bank and did not stop till now to Israel's last war on Gaza.
He also said that Hamas enjoys legitimacy more than ever and this was evident when it held its anniversary celebrations in different West Bank cities, warning that the return of Hamas to the West Bank contributed to the intensity of confrontations with Israeli soldiers and settlers.