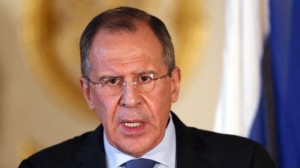 Russian Foreign Minister Sergey Lavrov has described as "outrageous" a threat by foreign-backed militants in Syria against those who plan to attend the peace talks in Geneva.
"It is outrageous that some of these extremist, terrorist organizations fighting government forces in Syria are starting to make threats," Lavrov said on Monday.
On May 7, Russia and the US agreed in Moscow to convene an international conference on Syria, which will serve as a follow-up to an earlier Geneva meeting held in June 2012. The talks will likely be held in late November.
Nineteen armed groups fighting against the Syrian government announced on Sunday that those attending the talks would be committing "treason" and "would have to answer before our courts."
"The threats are directed at those who have the courage to attend the proposed Geneva conference being offered by Russia and the United States with the entire world's support," Lavrov added.
Lavrov also noted that the threats imply that Russian "diplomatic representative offices and diplomats [working] in foreign countries would be legitimate targets" of terrorist attacks.
"This is all outrageous and unacceptable. And all of this, in the end, rests on the conscience of those who finance and arm these opposition groups," the Russian top diplomat said.
Syria has been gripped by deadly turmoil since 2011. According to the United Nations, more than 100,000 people have been killed and millions displaced in the violence.
Reports indicate that the Western powers and their regional allies — especially Qatar, Saudi Arabia, and Turkey — are supporting the militants operating inside the country.