Palestine
Three civilians wounded in israel's zionist aerial aggression on Gaza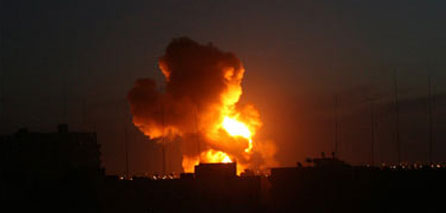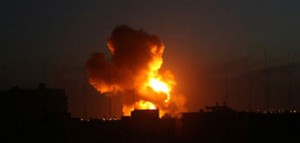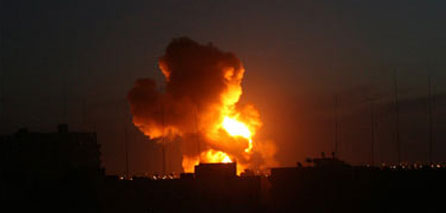 The Israeli occupation forces (IOF) stormed at dawn Saturday Taanach, Araqa, Anin, and Zbobh towns west of Jenin and raided homes as part of an arbitrary campaign aimed at looking for three missing settlers.
Local sources said that IOF soldiers broke into Araqa town and carried out provocative practices. Several citizens were questioned at Friday prayers amid intensive presence of Israeli forces.
Israeli forces also stormed Anin town at early morning hours and erected a military checkpoint at its entrance, checking the by-passers' identity cards.
The sources also revealed that Israeli forces deployed in neighborhoods of Taanach and Zbobh in Jenin. Several homes were raided, while no arrests were reported.
In another incident, the IOF stormed on the same day at dawn Bani Neim town in al-Khalil southern occupied West Bank. Raid and search operations were reported throughout the town.
Eyewitnesses said that a number of homes were stormed and violently searched as part of Israeli military campaign in West Bank declared two weeks ago searching for the three missing soldiers.
The Palestinian ministry of interior in Gaza categorically denied Egyptian security claims that terrorists of the Islamic state in Iraq and al-Sham known as Da'ish infiltrated into Sinai through Gaza tunnels.
Spokesman for the ministry Iyad Bazam said on Saturday that such claims are blatant lies and part of the ongoing Egyptian smear campaign against the Gaza Strip.
Bazam affirmed that all tunnels between Gaza and Egypt do not exist after the Egyptian army destroyed all of them.
The spokesman added that the border area between Gaza and Egypt are under tight control by the Palestinian national security forces.
Three Palestinian civilians suffered injuries at dawn Sunday in a renewed wave of Israeli aerial attacks on different areas of the Gaza Strip.
The Palestinian information center (PIC) reporter in Gaza said that Abu Jarad security site to the south of Gaza city sustained considerable material damage following an Israeli airstrike.
Meanwhile, intensive Israeli military moves in the eastern border area of Deir Al-Balah district was also reported.
Israeli warplanes also targeted three resistance sites in Khan Younis district, two of them belonging to Al-Qassam Brigades of Hamas and Al-Quds Brigades of Islamic Jihad.
The PIC reporter said that a child suffered slight injuries in the Israeli air raid that targeted Al-Ahrar site in the west of Khan Younis district.
In Rafah area, some Palestinian homes sustained damage when the Israeli occupation army waged five air raids that targeted resistance sites and empty lands.
Two more airstrikes targeted a resistance site belonging to Al-Qassam Brigades to the north of Nuseirat refugee camp in central Gaza and another site near Al-Nour area in the south of Gaza city.
In a later air raid, a 14-year-old child girl and a man in his mid-forties suffered injuries when an Israeli warplane bombed a populated area near Al-Farouq Mosque in Azzeitoun neighborhood to the southeast of Gaza City.