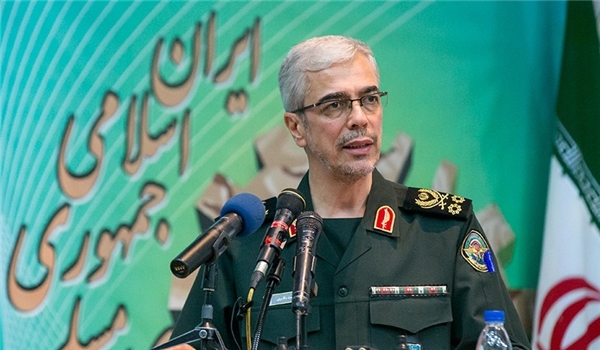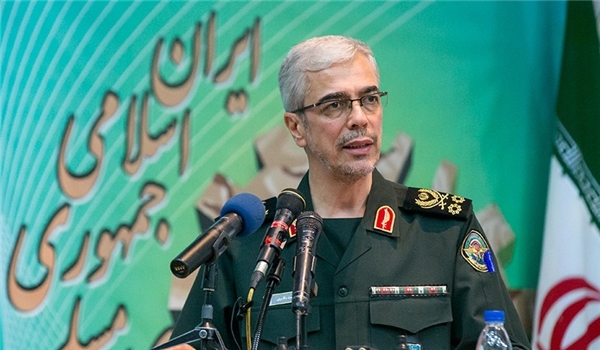 Chief of Staff of Iran's Armed Forces Major General Mohammad Hossein Baqeri underlined that the US administration whose declared goal is overthrowing the Islamic Republic of Iran is not worthy of talks and negotiations.
"The declared strategies by Trump (the US president) against Iran are a new threat against the country," General Baqeri said, addressing a forum in Tehran on Monday.
"The Americans' main objective in compiling new strategies is overthrowing the Islamic Republic which has been clearly stated by the US secretary of state in recent days," he added.
Noting that the US administration which aims to overthrow the Islamic Republic does not deserve and is not worthy of talks, General Baqeri warned that the Americans have now put using military force against Iran at the bottom of their list and have prioritized economic sanctions on top of the list of their new threats.
He also warned that if the (pervious) sanctions against Iran are approved under new names, the country will certainly withdraw from the 2015 nuclear deal with the world powers.
In relevant remarks last Thursday, Iranian Foreign Minister Mohammad Javad Zarif blasted his US counterpart Rex Tillerson for speaking of regime change in Iran, stressing that the Iranian people will not be fooled by Washington which calls them as terrorists and uses a fake name for the Persian Gulf.
"US changed one elected gov't in Iran— in 1953. It has tried a repeat since (19)79. Iranians (will) not (be) fooled by US game & (are) unmoved by fake sympathy," Zarif wrote on his twitter page.
"Faux sympathy for Iranians belied by Trump's use of fake name for Persian Gulf, calling them terrorist nation & banning them from visiting (the US)," he added.
Stressing that the Iranian people have elected their president (Rouhani) with 6 million more popular votes and 73% turnout, he said that the mantra used by the US officials on "standing with the Iranian people" is a lost strategy.
Tillerson said last Wednesday that US sanctions against Iran targeted what he called as the country's "malign behaviors" and were aimed at helping the Iranian people take control of their government.
Tillerson told a New Delhi press conference after talks with India's Foreign Minister Sushma Swaraj that the United States would not block "legitimate" business activities with Iran by India or any other ally.
US President Donald Trump's administration has taken a tougher line with Iran, threatening to tear up an international accord on its nuclear program.
Tillerson made it clear that the United States sought to give "support for modern voices inside of Iran" in a bid to bring about an eventual change of government.
His remarks came days after Trump used the fake name of the Arabian Gulf for the Persian Gulf which caused extreme wrath among the Iranian people.