Iran
North America
Top Security Official: US Needs to Avoid Meddling in Other Countries' Affairs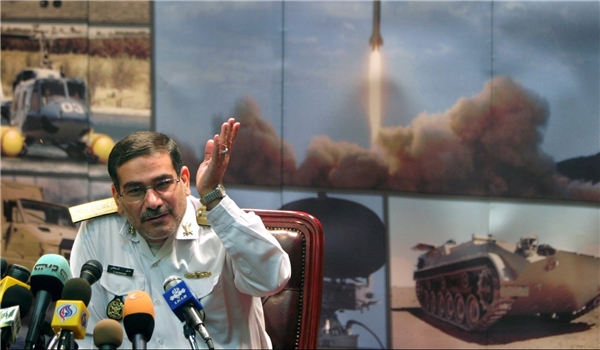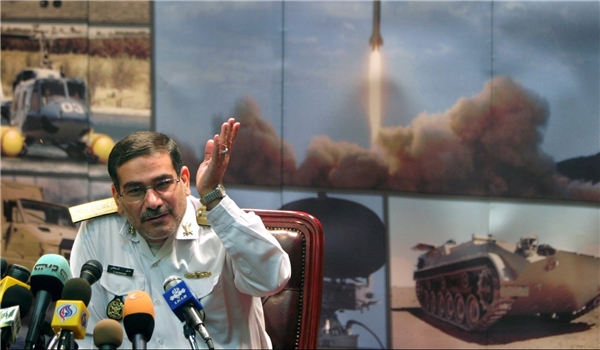 Secretary of Iran's Supreme National Security Council Ali Shamkhani blasted the White House for interfering in other countries' affairs, and asked the US to try to maintain its own domestic security rather than offering prescriptions for other nations.
"The US, that is unable to protect the security of its citizens, had better deal with its inherent duties in providing domestic security instead of meddling in internal affairs of other countries and supporting the massacre of people in Syria and Yemen," Shamkhani said referring to the increasing insecurity in the United States and armed attacks on 19 schools in the last several weeks.
He underlined that playing the blame game and fabrication of lies by the White House and Tel Aviv regime against Iran about the shooting down of an Israeli fighter jet is indicative of their deep animosity and fear of Iran's anti-occupation power.
Shamkhani said that the brave commanders and soldiers of the Resistance Front will free the occupied Quds and put an end to the occupation of the Zionist regime, as they strongly eliminated the self-declared "Daesh" (the ISIL) Caliphate in Iraq and Syria.
In relevant remarks on Wednesday, Iranian Foreign Ministry Spokesman Bahram Qassemi warned the regional leaders against the US policy of spreading fear and destabilizing the world.
Qassemi made the remarks after US Director of National Intelligence Dan Coats claimed of Washington's concern over Iran's influence in the region.
"The most immediate threats of regional interstate conflict in the next year come from North Korea and from Saudi-Iranian use of proxies in their rivalry," he claimed.
In response on Wednesday, Qassemi underlined that Iran's efforts to create stability and security in the Middle East are unparalleled in the region.
He added that such 'repetitive allegations' are distracting and baseless.
"Such remarks are result of the US government's policy aimed at producing and spreading threats and fostering fear-mongering in different parts of the world, particularly in the Middle East," Qassemi said.
"Such a policy is going to benefit Washington, while destabilizing for the world and the West Asia," he added.
Understanding such a policy and standing against it requires prudence and vigilance of all the leaders and people in the region, Qassemi said.
In relevant remarks last month, Iranian Defense Minister Brigadier General Amir Hatami blasted the US government for supporting Israel and destabilizing the regional countries.
"The US has always blamed others for its defeats in various parts of the world and pursued the Zionists' approach to create instability in the region," Brigadier General Hatami said in a telephone conversation with his Pakistani counterpart Khurram Dastagir.
The Iranian defense minister, meantime, reiterated that regional developments require both countries and the Islamic world to have further interaction in dealing with global developments.
"The rising poppy cultivation and rise of terrorism in Afghanistan, Yemen, Iraq and Syria are all rooted in the stupid and evil policies of the US," Brigadier General Hatami said.