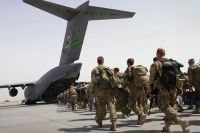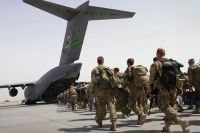 The Hungarian, Iceland and Italian troops are preparing to leave Afghanistan as the NATO-led International Security Assistance Force (ISAF) mission concludes by the end of next month.
The Ministry of Defense (MoD) said the Hungarian troops are withdrawing from Afghanistan on Tuesday, Khaama Press reported.
MoD Spokesman Gen. Zahir Azimi said troops from Iceland leaves the country on Wednesday, while the Irish and Italian will leave on Friday.
NATO will allegedly launch a new non-combat mission – Resolute Support mission to train, advise and assist Afghan security forces as of January 1, 2015. The NATO-led ISAF mission will end on 31 December 2014.
The NATO Secretary General Jens Stoltenberg visited Afghanistan last week to reaffirm the alliance's continued support to Afghanistan as the ISAF mission ends on 31st December.
Stoltenberg said the alliance is ready to open a new chapter in its relationship with Afghanistan. "Next year, we will open a new chapter. The future of Afghanistan will be in Afghan hands. But our support will continue," Stoltenberg said.