North America
Turkey
Zionist Trump accepted close ally Erdogan's invitation to visit Turkey in 2019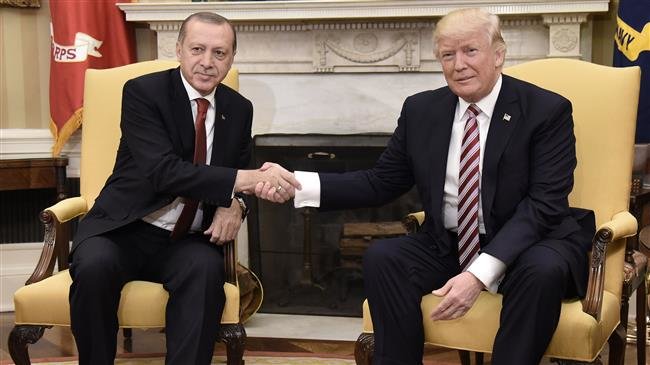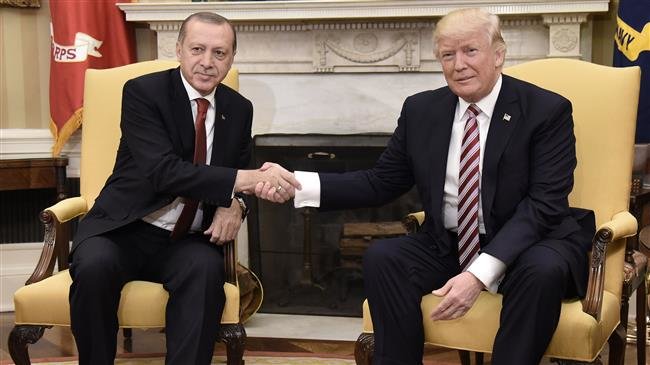 US President Donald Trump has accepted an invitation by his Turkish counterpart, Recep Tayyip Erdogan, to visit the country next year, according to a spokesperson for Turkey's leader.
Turkish Presidential spokesman Ibrahim Kalin told reporters on Monday that Trump wants to make the trip in 2019 but no date has been set yet. Kalin said Erdogan extended the invitation during a weekend phone call between the presidents.
White House spokesman Hogan Gidley confirmed the invitation in a statement on Monday evening, saying, "While nothing definite is being planned, the President is open to a potential meeting in the future."
The invitation comes after Trump's announcement last week that American troops would be pulled out of Syria.
Erdogan welcomed Trump's abrupt decision, temporarily postponing a planned invasion of Syria's Kurdish-controlled northeastern regions.
Elsewhere in his Monday's comments, Kalin said a US military delegation would visit Turkey this week to "discuss how to coordinate (the withdrawal) with their counterparts."
He added that a Turkish Foreign Ministry delegation would go to Washington for talks early January.
Trump's announcement came amid tensions between the two NATO allies over Washington's support for the Kurdish militants operating near the Turkish border in Syria.
Turkey sees Washington's military presence as an obstacle in dealing with the Kurdish People's Protection Units (YPG), a Syrian offshoot of the homegrown Kurdistan Workers' Party (PKK) which Ankara has blacklisted as a terror organization.
The PKK has been engaged in a prolonged insurgency against Ankara since 1984.
The YPG gained de facto autonomous rule in the region adjoining Turkey's southern border as Syria's central government focused its resources on fighting a foreign-led Takfiri militancy that plunged the country in turmoil in recent years.
'Turkey, US agree to complete Manbij deal'
Turkey's official Anadolu news agency quoted Turkish Foreign Minister Mevlut Cavusoglu as saying on Tuesday that Washington and Ankara had agreed to complete their agreement on Syria's Kurdish-held city of Manbij by the time the US withdrawal from Syria is completed.
Under the Manbij roadmap, both countries agreed to a complete withdrawal of the Washington-backed Kurdish militants from Manbij, which has been a source of tension between the two NATO allies for months.
According to broadcaster CNN Turk, Cavusoglu will travel to Russia to discuss the process of withdrawal in the coming days.
Cavusoglu was quoted by Turkey's Hurriyet newspaper as saying that Ankara is determined to cross to the east of the Euphrates river in northern Syria as soon as possible. Earlier this month, Ankara said it would launch a new military operation in the Kurdish-held area.