Middle East
North America
Saudi Arabia
Trump after another arms sale to Saudi: Menendez
US President Donald Trump is pursuing another arms sale to Saudi Arabia, says a top Democratic senator.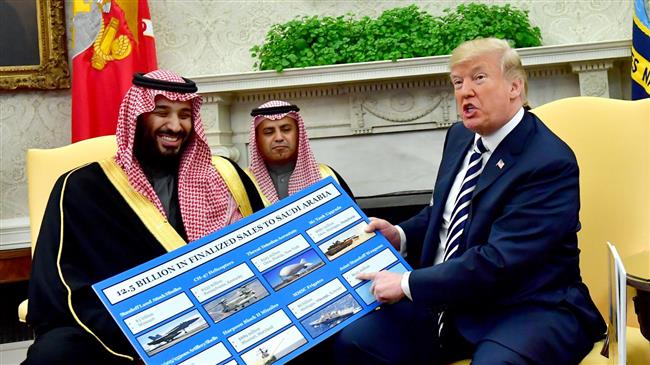 Senate Foreign Relations Committee ranking member, Bob Menendez, made the comments in an op-ed published by CNN Wednesday.
"Before we went into pandemic lockdown, I received draft State Department documentation that it is now pursuing this previously undisclosed sale — details of which have not yet been made public — even though the Saudis seemingly want out of their failed and brutal war in Yemen, and despite the fact that a bipartisan majority in Congress rejected previous sales of these weapons," Menendez wrote. "The administration has refused to answer our fundamental questions to justify this new sale and articulate how it would be consistent with US values and national security objectives."
In response to the op-ed, a State Department spokesperson said that, "as a matter of policy, we do not comment upon or confirm proposed defense sales until they have been formally notified to Congress."
'Pompeo should respond'
Washington has formally approved weapons sales to the kingdom totaling more than $1 billion despite growing pressure from rights groups to halt arms deals with Riyadh, which is waging a brutal war on Yemen.
"There is still no justification for the US to sell bombs to Saudi Arabia," Menendez wrote. "That is why I am particularly troubled that the State Department has again refused to explain the need to sell thousands more bombs to Saudi Arabia on top of the thousands that have yet to be delivered from last year's 'emergency.'"
The Democrat from New Jersey further suggested that hawkish Secretary of State Mike Pompeo should be held accountable for the US military support for the Saudi monarchy.
"The secretary of state needs to answer our questions," he said. "What is their reasoning to continue selling weapons to the Saudis? Why should Congress allow Trump to continue currying personal favor with a capricious Saudi despot who thinks he can butcher his critics without consequences?"
Saudi Arabia and a number of its regional allies launched the devastating war on Yemen in March 2015 in order to reinstate Yemen's former president, Abd Rabbuh Mansur Hadi, and crush the popular Houthi Ansarullah movement.
The US-based Armed Conflict Location and Event Data Project (ACLED), a nonprofit conflict-research organization, estimates that the war has claimed more than 100,000 lives over the past five years.