Asia-Pacific
Trump, Duterte meet in Manila amid anti-US protests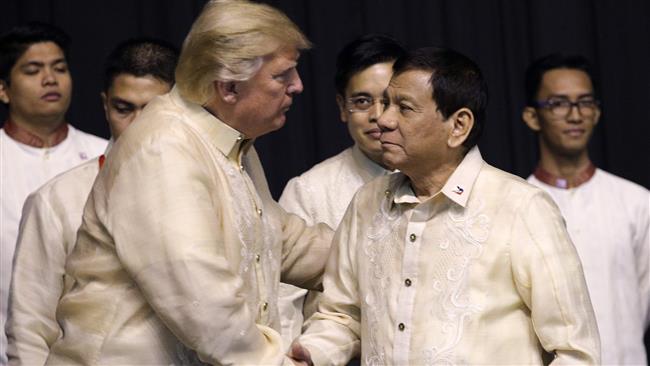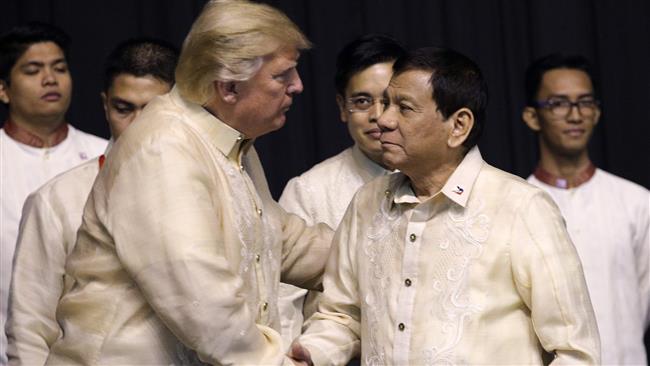 US President Donald Trump has met with his Philippine counterpart Rodrigo Duterte in Manila, as hundreds of angry people took to the streets of the capital to protest the US military presence in their country.
Duterte greeted Trump, who was attending a gala celebrating the 50th anniversary of the Association of Southeast Asian Nations (ASEAN)—China, Russia, Japan, Canada, South Korea, India, Australia and New Zealand.
The two leaders shook hands and exchanged pleasantries before posing for a group photo and sitting down for dinner. Trump and Duterte will hold more formal talks on Monday.
As the ASEAN leaders were arriving in succession, Duterte set the tone for this year's ASEAN session by pointing out the regional tensions fueled by disputes over the South China Sea.
"We have to be friends, the other hotheads would like us to confront China and the rest of the world on so many issues," Duterte said at a press conference.
"The South China Sea is better left untouched, nobody can afford to go to war. It can ill-afford a violent confrontation," he added.
The US president offers to help resolve an ongoing territorial dispute between Vietnam and China in the South China Sea.
China claims sovereignty over the disputed waters, which acts as a gateway for over $5 trillion in maritime trade every year. The claim has been undermined by the US and other countries neighboring the sea, including the Philippines.
Before heading for Manila, Trump said during a news conference in the Vietnamese capital Hanoi that, he was ready to mediate in the dispute.
The two-day visit wraps up Trump's 12-day tour to Asia, which has taken him to Japan, South Korea and China as well as Vietnam.
Protesters want US military out
Trump's arrival was met with protests by hundreds of activists who marched on the US embassy to express their concern about Trump's possible plans to expand US military presence in their country.
Washington is reportedly considering more military bases in the Philippines as part of Trump's strategy to pressure North Korea into scrapping its nuclear weapons and ballistic missiles programs.
Chanting "Dump Trump" and "Down with US Imperialism" and holding signs that said, "Ban Trump! Fight US Imperialist War and Plunder," the anti-war protesters clashed with police officers who blocked them with their riot shields.
"Trump is the CEO of the imperialist government of the US," said one protester. "We know he is here to push for unfair treaties between the Philippines and the US."
Police tried to keep the protesters from reaching the embassy building by firing water cannons on them.