Iran
Middle East
North America
World News
Trump gov't ties with Boeing run deep as US tries to blame Iranian missiles for Boeing crash
The Trump administration, whose chief enjoys deep relations with the US Boeing corporation, has sought to blame Iran for a recent 737 MAX crash regardless of the model's battered reputation.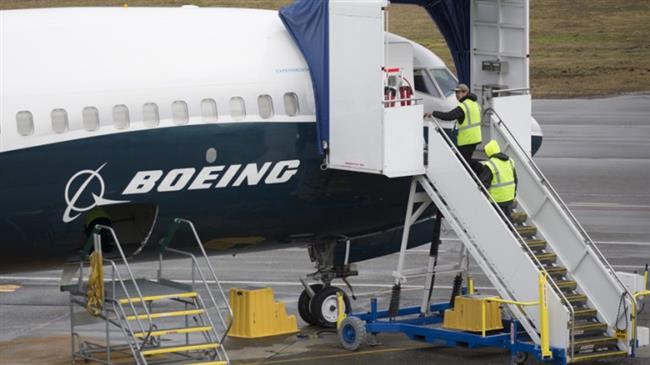 The passenger plane model was grounded around the world following two fatal 737 MAX crashes, one in October 2018 and another in March 2019.
The Trump administration, however, announced on March 12 that the aircraft was safe and American aviation officials reported that the US flights of the plane would continue.
The decision was, nonetheless, ultimately reversed a day later following mounting public pressure.
According to Reuters, the Trump administration's insistence to not ground the plane could have been related to his close ties to the company.
'Designed by clowns,' Boeing employees ridicule 737 MAX, regulators in internal messagesBoeing employees are harshly critical of the 737 MAX, saying the plane is "designed by clowns who in turn are supervised by monkeys."
Boeing CEO Dennis Muilenburgm, who allegedly briefed Trump clearing the Boeing Max 737 of safety concerns on March 12, enjoys close business relations with Trump, Reuters reported.
The report also said Patrick Shanahan, who was at the time acting as defense secretary, worked for 31 years at Boeing where he was general manager for the 787 Dreamliner passenger jet.
Nikki Haley, Trump's former US ambassador to the United Nations, who continues to be closely affiliated to Trump, also joined Boeing's board of directors in April last year.
The Trump administration's close affiliation to the Boeing has raised speculation regarding recent US intelligence claims blaming Iranian missiles for the Wednesday crash of a Ukrainian Boeing 737-800 in Iran as the US aircraft company continues to suffer economic loss from the grounding of its 737 MAX planes.
Ukrainian passenger jet crashes in Iran, all 179 on board deadA Ukrainian passenger plane with 179 people on board crashes shortly after take-off from the international airport south of the Iranian capital, Tehran, killing all those aboard.
Iranian officials have vehemently denied the allegations, saying investigations into the reasons behind the crash are ongoing with the assistance of relevant foreign parties.
Iran says is certain no missile hit Ukrainian plane before crashIran's top aviation official says Tehran is certain no missile hit the Ukrainian passenger plane that crashed in Tehran Wednesday.
The Trump administration's quick move to blame Iran for the airplane crash comes as the Boeing 737 has a reputation for fatal crashes in the past recent years.
According to reports, the Boeing 737-800, which is an older member of the 737 family which the grounded Boeing Max belongs to, has been implicated in 24 fatal crashes since 2006, killing a total 767 people.
A list of a number of the accidents, cited from publicly available sources, follow below:
September 29, 2006: Gol Transportes Aéreos Flight 1907, a brand-new 737-800 with 154 people on board broke up and crashed following a midair collision in Brazil with an Embraer Legacy 600. All on board the 737-800 were killed. The Legacy landed safely at a Brazilian Air Force base.
May 5, 2007: Kenya Airways Flight 507, a 737-800 carrying 105 passengers and nine crew lost contact and crashed into a swamp on a flight to Nairobi, Kenya from Abidjan, Côte d'Ivoire, after making a scheduled stop at Douala, Cameroon. There were no survivors.
February 25, 2009: Turkish Airlines Flight 1951, a 737-800 coming from Istanbul, crashed in a field near the Polderbaan while attempting to land at Amsterdam's Schiphol Airport. The fuselage broke into three pieces after the crash and the engine pylons separated. Of the 135 passengers and crew, there were nine fatalities: five passengers and four crew members (including both pilots and a pilot-in-training); 84 people suffered injuries. Crash investigations initially focused on a malfunctioning left radar altimeter, which may have resulted in false altitude information causing the auto throttle to reduce power.
January 25, 2010: Ethiopian Airlines Flight 409, a 737-800, crashed into the Mediterranean Sea shortly after take-off from Beirut Rafic Hariri International Airport. The flight had 90 passengers and 8 crew, 50 passengers of whom were Lebanese, and was bound for the Ethiopian capital of Addis Ababa. There were no survivors.
May 22, 2010: Air India Express Flight 812, a 737-800, overran the runway on landing at Mangalore International Airport, killing 158 passengers including six crew on board. There were eight survivors. The airliner crashed through the fence at the end of the runway going into a valley 200 feet below. Although the 8,000 ft runway is sufficient for landing there was no bare land at the end of the runway on the table top airport to account for mistakes.
August 16, 2010: AIRES Flight 8250, a 737-700, crashed and split into three pieces on the Colombian island of San Andres. There was no fire and two fatalities reported.
March 19, 2016: Flydubai Flight 981, a 737-800 flying from Dubai, United Arab Emirates to Rostov-on-Don, Russia, crashed on the final approach to Rostov-on-Don Airport in inclement weather. All 62 people on board died.
April 17, 2018: Southwest Airlines Flight 1380, a 737-700, made an emergency landing at Philadelphia International Airport following an in-flight engine failure of the left engine. Debris from the engine cracked a cabin window which then failed, causing explosive decompression; a passenger partially ejected from the aircraft later died of her injuries.
September 28, 2018: Air Niugini Flight 73, a 737-800, on a flight from Pohnpei, Federated States of Micronesia, to Port Moresby, Papua New Guinea, with an intermediate stop at Chuuk International Airport, undershot the runway at Chuuk and landed in a lagoon. One of the 47 occupants died.
January 8, 2020: Ukraine International Airlines Flight 752 operated by a Boeing 737-800, crashed shortly after taking off from Imam Khomeini International Airport in Tehran, Iran, bound for Kiev, Ukraine. There were no survivors among the 167 passengers and 9 crew. Canadian and United States intelligence has evidence that the Iranian missile defense system accidentally shot down the Ukrainian plane.