Iran
Middle East
North America
Trump invited Zarif to White House, was snubbed: Report
Shortly before the United States placed sanctions on Iran's Foreign Minister Mohammad Javad Zarif, US President Donald Trump invited him for a meeting at the White House through an intermediary while he was in the US, a report says.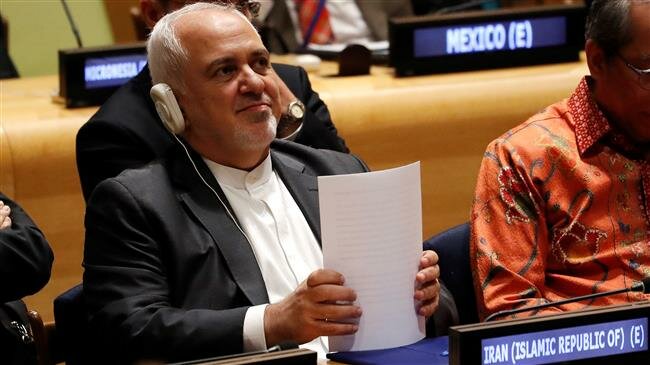 According to the report, written by Robin Wright for American magazine The New Yorker, Senator Rand Paul, Republican of Kentucky, and reportedly tapped by Trump as a go-between with Iran, extended the invitation to Zarif during a meeting at the residence of Iran's ambassador to the United Nations (UN) in New York on July 15.
The Iranian foreign minister was in the US for an event at the UN, and he rejected the invitation after consulting Tehran, according to the report, which cited "American and Iranian sources and a well-informed diplomat."
An intermediary had reached out to Iran on Paul's behalf three weeks before Zarif arrived in New York for the UN event, it said.
Zarif had his concerns.
He told Paul that the meeting would have no substance and would be little more than a photo op for Trump, who has used opportunities like that before to claim his administration is interested in diplomacy.
Nevertheless, and after the meeting with Paul, "Zarif relayed the overture to Iran's leaders. They did not approve a meeting — at this time," the report said.
The Iranian Foreign Ministry did not immediately comment on the report. Iranian officials have said in the past that while they are open to diplomacy, the US would have to return to the 2015 Iran deal or lift certain sanctions before any engagement could take place.
On Wednesday, some two weeks after Trump failed to get the meeting with Zarif, the US said that it was imposing sanctions on the Iranian foreign minister for being Iran's "primary spokesperson around the world." The US had already restricted Zarif's movements in the US, reportedly over fears that he made Iran's case — in fluent English — in interviews with various US media, including Trump's favorite channel Fox News.
Trump had also already been snubbed by President Hassan Rouhani of Iran — eight times.
The US president unilaterally withdrew from the multilateral deal with Iran in May 2018 and has since been following what he calls a campaign of "maximum pressure" on the country. In speeches at the UN General Assembly, where he has requested to meet with the Iranian president, he has used offensive language to talk about the Iranian government. He has also reportedly called Iran "a terrorist nation."
Commenting on the US targeting of Zarif with sanctions, Paul, the US senator, tweeted, "If you sanction diplomats you'll have less diplomacy."
Iranian and American top leaders have never met since the Islamic Revolution in 1979. Foreign Minister Zarif is the only high-ranking Iranian official to have briefly met with a US president, former President Barack Obama. President Rouhani also once spoke with President Obama on the phone.