Iran
Middle East
North America
Qasem Suleimani
World News
Trump, Pompeo, Hook represent US' dangerous ruling class: Iran's Shamkhani
The Secretary of Iran's Supreme National Security Council (SNSC) has lambasted US President Donald Trump, Secretary of State Mike Pompeo and Special Representative for Iran Brian Hook for their "mindless and dangerous" behavior.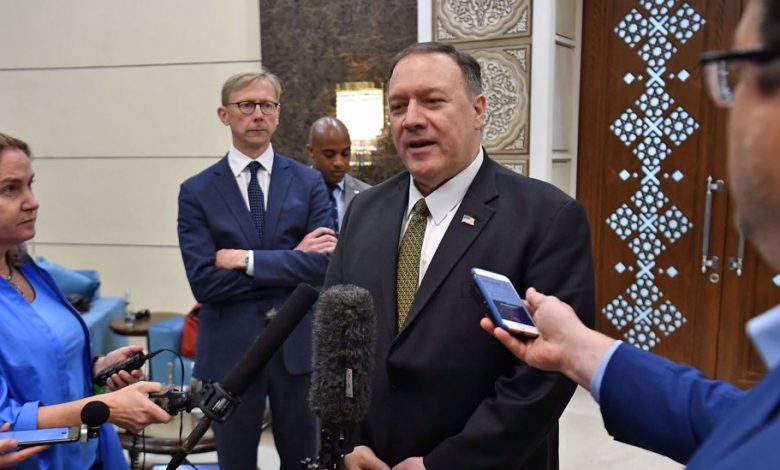 "The Trump-Pompeo-Hook triangle has created an image of the American ruling class which is considered unreliable by its allies, a threat by its rivals and incompetent by its citizens," Ali Shamkhani said in a tweet.
"The rule of the incompetent and mindless is only a source of danger," he added.
Under the Trump administration, many observers have said Washington has gained notoriety among friends and foes alike for its dubious behavior, commonly discarding international norms and even forfeiting its own allies for short-term gains.
Washington's withdrawal from the multilateral 2015 Iran nuclear deal in 2018, along with its subsequent obsession with denying Tehran of any economic respite, is regarded as one of the main defining pillars of Trump's unruly foreign policy.
Pompeo and Hook have largely designed the Trump administration's aggressive approach towards Iran, along with the hawkish former National Security Adviser John Bolton who was fired by Trump due to alleged policy disagreements last year.
The two officials have also been leading the US' latest push to extend a UN arms embargo on Iran that will expire in October under UN Security Council resolution 2231, which endorsed the landmark Iran nuclear deal in 2015.
On Wednesday, Hook threatened that the US may seek to trigger a snapback of all UN sanctions on Iran if its attempts to extend the arms embargo fail.
Iran, along with other signatories to the deal such as China and Russia, have lambasted the purposed measure, arguing that Washington now holds no authority over the matter after violating the nuclear deal and, subsequently, UN Security Council Resolution 2231.
'No overarching strategy'
Many politicians and figures in the US have also criticized the disorderly nature of Trump's foreign policy, specifically its approach towards Iran.
"Haphazard US policymaking has led to a weakening of America's most important alliances, an increase in Iranian nuclear activity, and the consolidation of Iranian anti-American sentiment," wrote US Senator Dianne Feinstein in an opinion piece on Thursday.
The senator hit out at Washington's provocative policy towards Iran, adding that it lacked "any clear policy or overarching strategy" and that it could inadvertently lead to war.
Feinstein's warnings about war come as the Trump administration has coupled economic sanctions with military provocations against Tehran, deploying thousands of troops to the region in order to "deter" Iran over the past year.
Washington came close to a full-scale confrontation with Tehran after it assassinated the country's top anti-terrorism figure, Lieutenant General Qassem Soleimani, while on an official trip in Iraq's capital city Baghdad in January.
Iran responded to the assassination by firing volleys of ballistic missiles at two US-occupied bases in Iraq, causing extensive damage and casualties.
The Trump administration did not respond to the Iranian retaliatory strikes despite vowing in earlier statements a "disproportionate" response if the Islamic Republic attacked its forces.