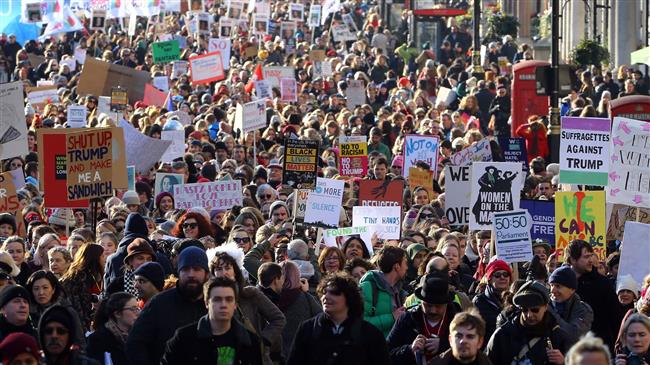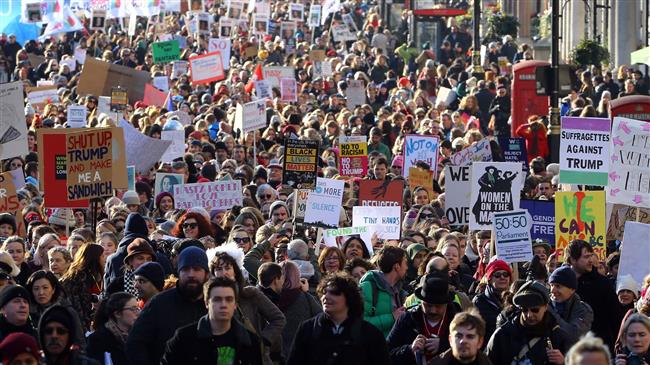 Donald Trump will almost entirely avoid London during his four-day official visit to Britain next week as thousands of people are expected to descend on the British capital to protest against the US president.
Trump will only spend the night in London on Thursday, the day of his arrival, staying at the US ambassador's residence in Winfield House.
The US president will meet Prime Minister Theresa May at her Chequers country retreat in Buckinghamshire before joining the Queen at Windsor Castle on July 13. Both are places where protesters can be kept out of sight.
Around 50,000 protesters plan to hold a march in London as part of a "carnival of resistance" across the country in response to the president's visit.
The demonstration is organized by Stop Trump, a coalition of activists and organizations created in 2017 to protest Trump's planned visit to Britain.
Activists have raised money to pay for a giant inflatable "baby Trump," which they intend to fly above the city during the president's visit.
London Mayor Sadiq Khan, who has a tense relations with Trump, and City Hall have given the green light for the blimp to be flown near Parliament.
The US president will spend the weekend in Scotland, where he is expected to play golf.
Trump's itinerary has provoked criticism that he wants to avoid the planned protests.
Woody Johnson, the US ambassador to the UK, rejected the suggestion.
"No, the president is not avoiding anything," he told a press briefing. "The president is merely trying to get as impactful a trip as he can get in a 24-hour period."
Trump had previously canceled his plan to visit the UK for the opening of the new US embassy there over fears of mass protests.