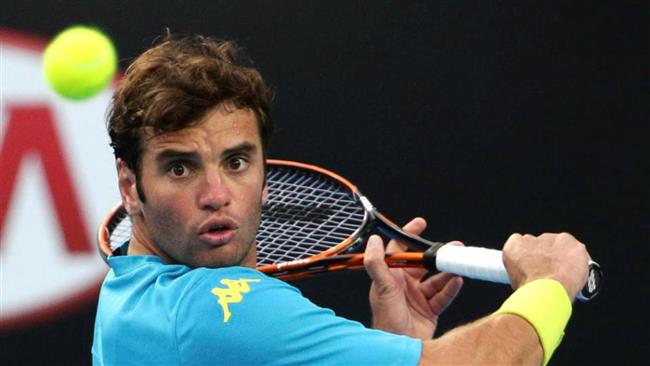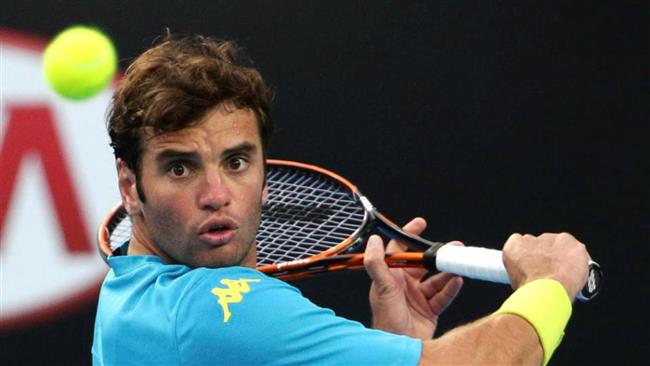 A Tunisian tennis player has pulled out of a French tournament in order not to compete against an Israeli opponent.
Malek Jaziri retired from a match against the Uzbek tennis player, Denis Istomin, after winning the first set 6-3 in the first round of the Open Sud de France on Wednesday.
If he had won the match against the Uzbek player, he would have fought the Israeli player, Dudi Sela, in the next round.
The Tunisian player refused to continue the match, citing an injury he had suffered at the Australian Open earlier this year, thus avoiding an encounter with the Israeli opponent in the next round and a potential ban by the sports governing body.
Jaziri "suffered again from an elbow injury he picked up" at the Australian Open, the Associated Press quoted the tournament organizers as saying.
The organizer further said that the Tunisian player called for a trainer twice during the match.
Jaziri and his Spanish partner, Marc Lopez, also withdrew from the doubles where they were scheduled to compete against an Israeli player and his partner in the quarterfinals at the Australian Open.
Jaziri had also refused to compete against an Israeli opponent at a second-tier tournament in the quarterfinals of the Challenger tournament by the Association of Tennis Professionals (ATP) in the Uzbek capital,Tashkent, in 2013.
He withdrew before the match against the Israeli player and the International Tennis Federation, the world governing body of tennis, banned the African country from participating in the 2014 Davis Cup, arguing that the Tunisian federation was guilty of "interfering with international sporting practice."
Many athlete across the globe, especially Iranian and Arab athletes, have boycotted Israeli athletes because of the atrocities the Tel Aviv regime has been committing against the Palestinian people.
Arash Miresmaeili, the Iranian world judo champion who carried Iran's flag in the opening ceremony of the Olympic Games in Greece in 2004, withdrew from the tournament in order not to face an Israeli.
Hamed Malekmohammdi and Masoud Haji Akhoundzade are the two other Iranian judo champions who have pulled out of matches with Israeli opponents.
Yemeni and Saudi players also boycotted Israeli players at the world table tennis championships in Paris in 2003.
About 2,200 Palestinians, including 577 children, were killed in the latest Israeli onslaught on the besieged Gaza Strip, which started in early July 2014 and ended in late August. Over 11,100 others, including 3,374 children, 2,088 women and 410 elderly people, were also injured.
Some 100,000 people are still homeless in the besieged coastal sliver, with thousands of homes being in need of repair after the Israeli war.