Africa
Tunisia ruling Islamic party calls for rally amid recent unrest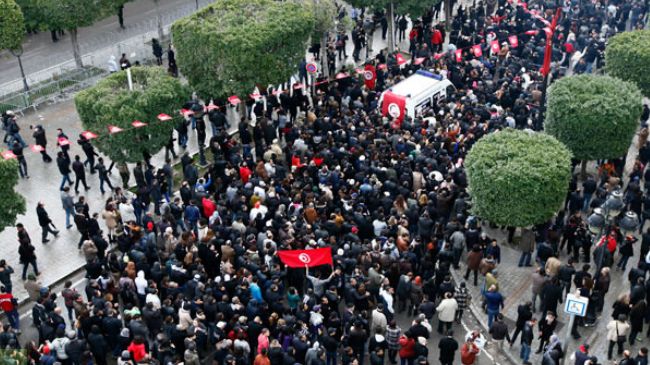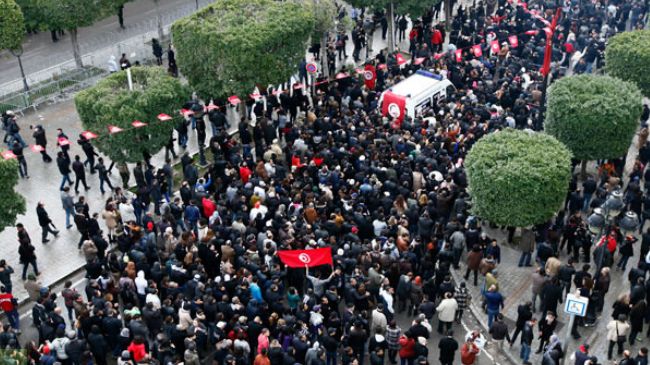 Tunisia's ruling Islamic party has called for rallies in the capital as the northwestern African country is struggling with a political chaos following the assassination of an opposition figure.
The Ennahda party said in a statement that the demonstration is scheduled to hold in the centre of Tunis on Habib Bourguiba Avenue, where the latest violence has taken place.
The protest would "defend the legitimacy of the national constituent assembly," where the Ennahda-dominated coalition holds a majority, and would "fight against (political) violence" it said the opposition is using.
The statement released one day after hundreds of thousands mourners chanting anti-government slogans took to the streets of the Tunisian capital for the funeral of the slain opposition figure, Shokri Belaid.
Police also clashed with furious protesters who were throwing stones and petrol bombs in the central town of Qafsa on Friday as rallies swept Tunisian cities.
Tunisian police used tear gas to disperse protesters who had set a number of cars ablaze, following the funeral of Belaid in the capital, Tunis.
Belaid's mysterious assassination on Wednesday dragged the North African nation into a political crisis. He was fatally shot outside his home in Tunis on February 6.
Protests erupted across the nation and the headquarters of the ruling Ennahda Party were attacked in more than a dozen cities.
Ennahda has been accused of involvement in Belaid's killing, an allegation it has strongly rejected.
All flights to and from Tunisia have also been cancelled.