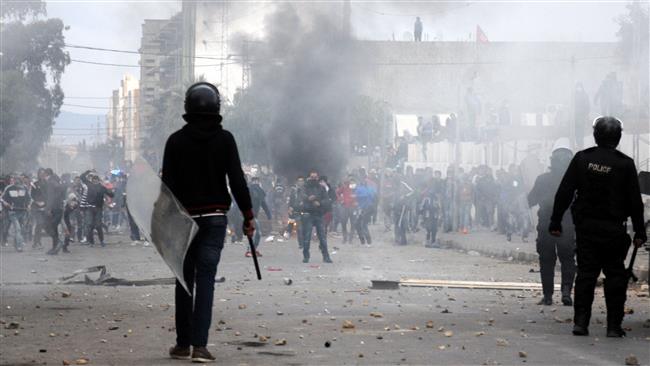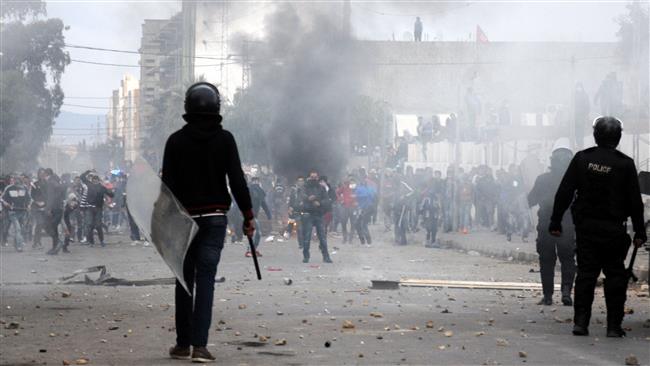 Scuffles have broken out across Tunisia between security forces and the protesters, who were out on the streets again to show their anger at unemployment and economic woes in the North African state.
On Thursday, police fired tear gas and clashed with several thousand protesters, who set fire to police posts and tried to storm local government buildings in the capital Tunis and several towns.
In Tunis, rioters burned a small police post in the poor district of Cite El Intilaka, while tires were set alight in the streets of another district.
The protesters also attacked police posts in the southern town of Guebelim as well as Kef in Tunisia's northwest, the Interior Ministry said.
The biggest demonstration was reported outside the local government office in the central improvised town of Kasserine, where protesters numbering in the thousands came out to demand jobs.
They were chanting slogans such as "Work, freedom, dignity."
"I've been out of work for 13 years and I am a qualified technician. We are not looking for handouts, just our right to work," said a protester Kasserine.
Demonstrations have been going on since earlier this week when a man killed himself on Monday in the west-central province of Kasserine after being rejected for a government job.
At least one policeman has been killed since the outbreak of riots.
This week's events evoked memories of the suicide of a struggling young market vendor, Mohammed Bouazizi, back in December 2010. The death became a catalyst for Tunisia's 2011 uprising that toppledformer ruler Zine al-Abidine Ben Ali and triggered similar mass protests in other Arab countries.
Many of those demonstrating in Tunisia this week, however, say many of the social problems highlighted in 2011 had not been resolved. They believe the issue of unemployment and corruption has not changed since Ben Ali's ouster.