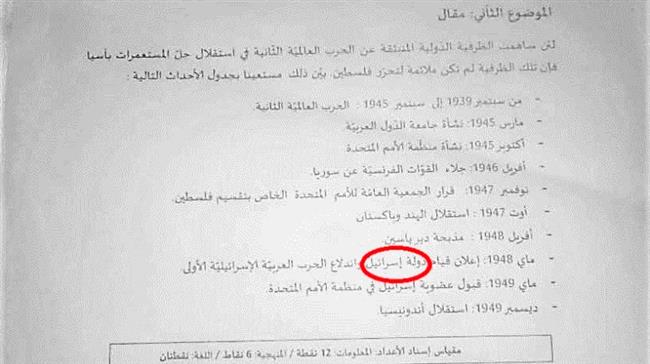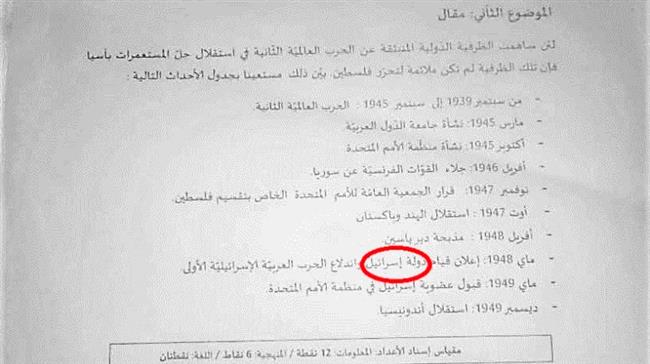 A group of teachers in Tunisia have expressed their strong dissent against a recent history and geography exam which referred to the Israeli regime as a "state" and not an occupying entity, refusing to correct the papers.
Dozens of secondary school teachers attended a protest gathering in the central city of Ghasrin on Monday to voice their objection against the appearance of "state of Israel" in the recent exam paper, the UK-based newspaper al-Quds al-Arabi reported.
The teachers said that they would never correct the papers as long as such a blatant lie about the occupying regime was printed on them.
"The name of Israel must connote occupying, notorious, nefarious and the Zionist entity in the minds of the Tunisian students," said an unnamed spokesman for the teachers, adding that "the cause of Palestinian people is very important for us."
He also said that Tunisia had not recognized Israel as a "state" since 1947, when the occupying regime emerged in the Middle East.
More than half a million Israelis live in over 230 settlements built since the 1967 Israeli occupation of the Palestinian territories of the West Bank and East Jerusalem al-Quds. The presence and continued expansion of Israeli settlements in occupied Palestinian lands have created a major obstacle for efforts to establish peace in the Middle East.
In recent years, Israel has expanded the authority of its military to demolish Palestinian homes in the occupied territories. The Israeli military can now execute demolition orders in the so-called Area C of the West Bank just days after they are issued.
International bodies and rights groups argue that Israel's sustained demolition of Palestinian homes and structures in the occupied West Bank and East Jerusalem al-Quds is an attempt by the Tel Aviv regime to uproot Palestinians from their native territories, and confiscate more land for expansion of the illegal settlements.