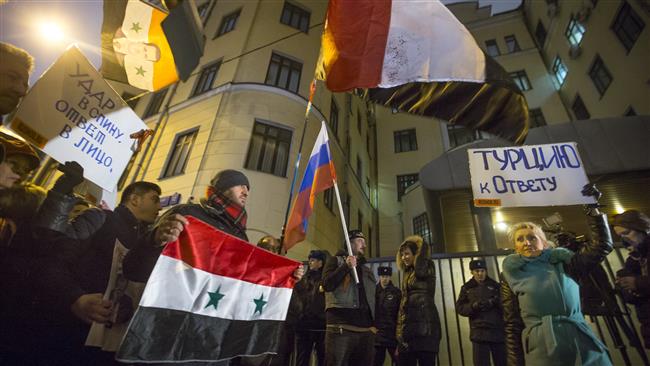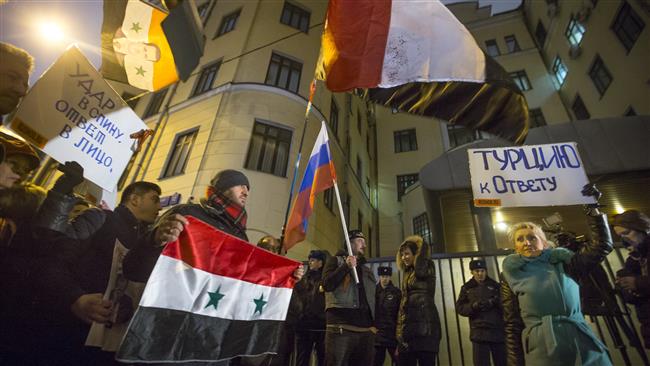 Turkey's Prime Minister Ahmet Davutoglu says his country is planning to "work with" Russia to ease the tensions that have arisen in the wake of the downing of a Russian jet by the Turkish military.
"The necessary discussions are now taking place," Davutoglu wrote in an opinion piece published by the UK's Times newspaper. "While the measures to defend our territory will remain in place, Turkey will work with Russia and our allies to calm tensions."
Turkey shot down a Russian Sukhoi Su-24M inside Syria on Tuesday, plunging the relations with Russia into crisis. Russian President Vladimir Putin has described the move a "stab in the back, carried out by the accomplices of terrorists."
In his article, Davutoglu did not explain specifically how Turkey was going to "work with" Russia; an escalating war of words has been ongoing between the two countries ever since the downing of the jet – which also led to the killing of one of its two pilots – and there is little indication that Moscow would be willing to engage with Ankara on the issue without a Turkish apology first.
Putin has said that Turkey must ensure that such an incident never happens again. In Thursday remarks at a presser with visiting French President Francois Hollande by his side, Putin said Ankara is instead offering "unintelligible explanations and statements that there is nothing to apologize about."
Turkey has been defiantly claiming that the Russian jet violated Turkish airspace, even as radar imaging from Russia's Hmeymim airbase in Syria show that the Turkish jet actually violated Syrian airspace to attack the Russian jet. The Sukhoi Su-24M also crashed well within Syrian territory after being shot.
The aircraft's two pilots ejected as it was going down in flames. One of the pilots was killed by militants – some of them Turkmen associated with Turkey – in Syria, while the second one was picked up by the Syrian army. The surviving pilot said that the jet did not violate Turkish airspace and that they did not receive any warnings from the Turkish side, refuting claims by Ankara that it warned the Russian jet a number of times.
Russia has deployed advanced S-400 defense missile systems to the Khmeimim airbase in western Syria (see footage below) and said it would destroy any targets threatening its aircraft. Moscow said its bombers in Syria will also be escorted by fighter jets from now on.
'We would've acted differently if we had known!'
In remarks also aimed at damage control, Turkish President Recep Tayyip Erdogan on Thursday said that Ankara "does not want tensions with Russia," but stopped short of apologizing for the incident.
He repeated Turkey's stance that the Russian jet "ignored repeated warnings over five minutes" to leave Turkish airspace and did not identify itself, adding that Turks would have acted differently if they had known the aircraft belonged to Moscow.
This is while Putin said during his Thursday press conference that it is impossible for the Turkish Air Force not to have recognized Russia's planes, saying that the United States knew where the aircraft was flying at the time it was brought down.
Erdogan said that his Russian counterpart had ignored his phone calls. "We need to talk about what happened […], but Putin has not returned my call," he said.
Retaliation
The Russian Defense Ministry has suspended all military contacts with Turkey following the downing of the jet.
"Today, in accordance with a previously made decision, all cooperation channels have been cut between the Russian Defense Ministry and the Turkish Armed Forces," the ministry's spokesman Maj. Gen. Igor Konashenkov told reporters on Thursday.
Russian Prime Minister Dmitry Medvedev has, meanwhile, ordered his government to draw up retaliatory economic measures against Turkey, calling on his ministers to create plans that would include freezing some joint investment projects, restricting financial and trade transactions, changing customs duties and restrictions on food imports from Turkey. The measures can also target the tourism and transport sectors as well as labor markets.
Russia has been carrying out airstrikes against Daesh, al-Nusra Front, and other terrorist groups in Syria since September 30. The aerial military campaign came upon a request by Damascus.
Turkey has been complaining about the Russian airstrikes almost since they started. Prior to the Tuesday incident, Ankara had claimed that Russian jets violated its airspace on two occasions. Russia admitted only one of the two alleged incidents, saying the violation occurred due to bad weather conditions.