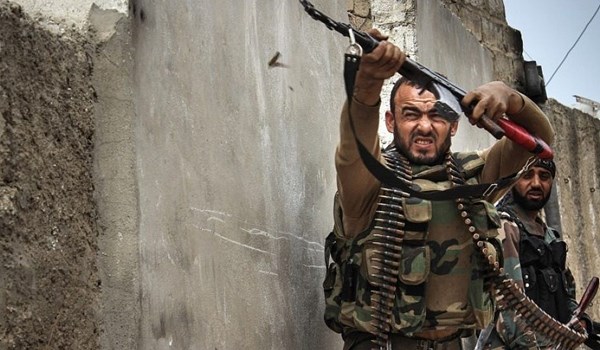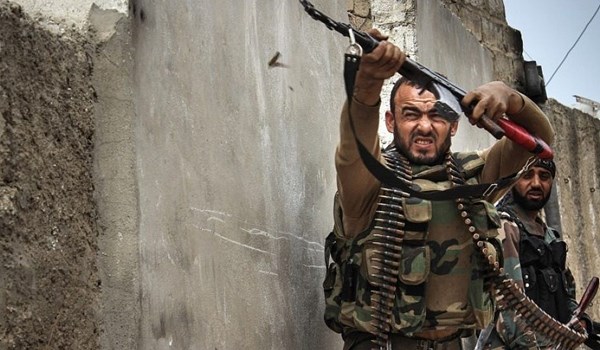 Ankara-backed militants opened fire at the positions of the Syrian Army troops near the newly-liberated town of Manbij in Aleppo province on Saturday a day after the Kurdish militia handed over the town to the Damascus forces.
The London-based Syrian Observatory for Human Rights (SOHR) reported that the Turkey-backed militants targeted the positions of army soldiers and Manbij Military Council near the town of Manbij a day after the army deployed in the key town of Manbij.
In the meantime, Kurdish Hawar news reported that the terrorists of the Turkey-led Euphrates Shield Force targeted several areas in al-Mohsenli village in Sajour, West of the town of Manbij.
The Syrian Armed Forces' Headquarters announced in a statement on Friday that the Damascus forces entered Manbij in Aleppo province and hoisted the country's national flag over the key town.
The statement by the Syrian Armed Forces' Headquarters came after the Syrian Democratic Forces asked for the deployment of the government troops.
The Syrian Army entered Manbij town after the People's Protection Units asked the Syrian Armed Forces to enter the strategic town.
SDF Spokesman Ceyhan Ahmad also confirmed the Syrian Army's arrival in Manbij town.
The local sources in Northern Syria announced that the Ankara-backed militants are fortifying their positions around Manbij in a bid to attack the strategic town concurrent with US troops' withdrawal from there.
Manbij is in a critical situation after US President Donald Trump declared US forces' withdrawal from Manbij town.
In relevant development on Thursday, residents of Manbij called on Damascus to deploy army forces in the strategic town in Northeastern Aleppo.
The Arabic-language al-Watan newspaper quoted Mojib al-Rahman al-Dandan, the representative of Manbij in the Syrian parliament, as saying on Thursday that as Damascus and the SDF are holding talks on deployment of army forces in the town, the residents are also strongly pressuring the officials to this end.
He added that after US President Donald Trump's declaration of withdrawal of American forces from Syria, the US army retreated from Manbij to Tishrin dam, noting that Manbij residents want immediate deployment of the Syrian army in the town.
Al-Dandan, meantime, said that the SDF leaders are also involved in internal differences as some intend to leave Syria for France and call for the establishment of a no-fly zone and some others want talks with the Syrian government.
He underlined the possibility for the imminent deployment of the Syrian army forces in the region, and said given the strategic importance of Manbij which is the main route to the Forat (Euphrates) dam, the army will be able to liberate all areas in Eastern Syria after regaining the region.