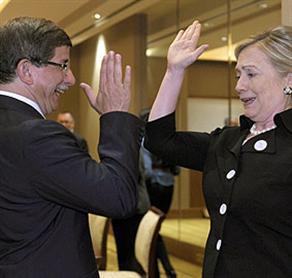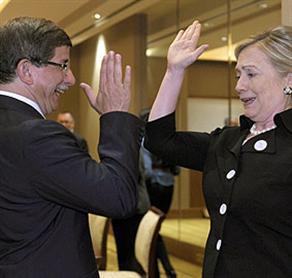 Turkey has expressed support for lifting the EU's arms embargo on Syria in order to facilitate the provision of weaponry to the foreign-backed militants fighting against the Syrian government.
Turkish Foreign Minister Davutoglu said on Thursday that "Turkey would prefer that nobody used arms in Syria, but the Syrian regime is attacking its people," Turkish daily Hurriyet reported.
Turkey, along with Qatar and Saudi Arabia, has already been accused by the Syrian government of providing arms and logistic support for the militants in Syria.
In December 2012, members of the main Turkish opposition party, the Republican People's Party, said Libyan and Saudi militants are freely entering Syria via Turkey's border. They also said that Turkish military escorts and protects the militants on their way to join terrorist groups in Syria.
Earlier on Thursday, French Foreign Minister Laurent Fabius said that France and Britain are planning to ask for the date of the next EU meeting on the Syria arms embargo to be moved ahead, adding that they will arm the militants even if an agreement is not reached.
On February 28, EU foreign ministers last extended the embargo for three months. The sanctions are, however, always up for review by the bloc's member states.
Also on Thursday, French President Francois Hollande said in reference to the current European Union's sanctions on sending arms to Syria that "We want Europeans to lift the arms embargo…. We are ready to support the rebellion, so we are ready to go this far. We must take our responsibilities."
The UK has also expressed support for lifting the arms embargo.
However, several European countries have disagreed with the move, warning that increasing the number of weapons on the ground will intensify the Syrian conflict.
The Syria crisis began in March 2011, and many people, including large numbers of soldiers and security personnel, have been killed in the violence.
Damascus says the chaos is being orchestrated from outside the country, and there are reports that a very large number of the militants are foreign nationals.