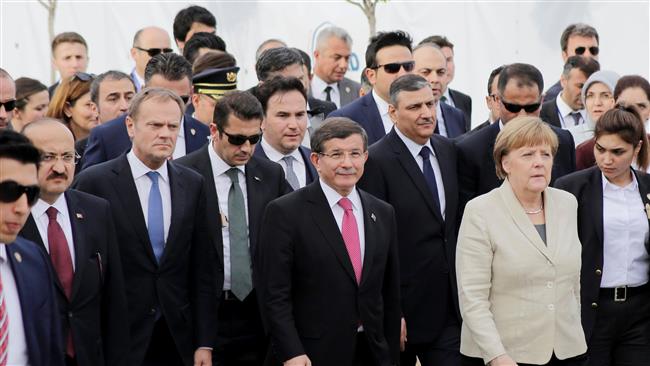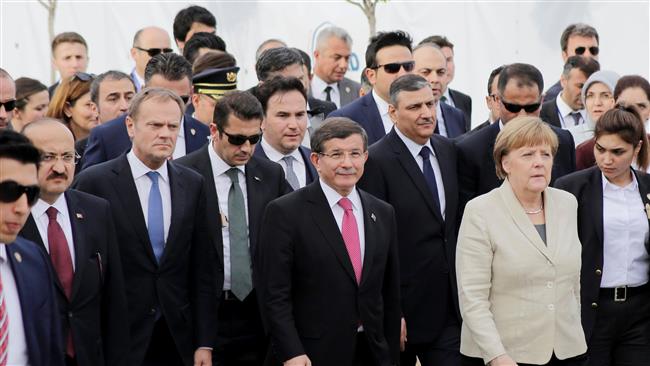 A senior EU official suggests Turkey's President Recep Tayyip Erdogan needs to develop a "thick skin" against criticisms amid growing crackdown on critical media by Ankara.  
Donald Tusk, the European Council president, made the remarks during a recent visit along with German Chancellor Angela Merkel to a refugee camp at Gaziantep near the Turkish-Syrian border .
"As a politician, I have learned and accepted to have a thick skin, and I have no expectation that the Press will treat me with a special care – quite the opposite," Tusk said, adding, "The line between criticism, insult and defamation is very thin and relative, and the moment politicians decide which is which can mean the end between freedom of expression, in Europe, in Turkey, in Africa and Russia, everywhere."
Recalling his own imprisonment in the 1980s for opposing Poland's communist government, Tusk said that  he "was imprisoned for being critical of the regime – and if I remember well, my good friend President Erdogan had a similar experience 15 years later for expressing his views."
The remarks come at a time when EU's top brass face huge criticism over the body's inaction on the freedom of speech restrictions in Turkey.
Merkel is especially targeted after she decided last week to allow German prosecutors and courts probe into an alleged insult by German satirist Jan Boehmermann against President Erdogan.
Meanwhile, Turkey on Sunday also briefly detained a Dutch journalist for a tweet deemed critical of Turkish President Erdogan. Ebru Umar, a columnist of Turkish origin, tweeted early on Sunday that police were at her door and that she was being taken to a police station in Turkey's western resort of Kusadasi.
A court in Istanbul has recently held another hearing for two Turkish journalists the opposition Cumhuriyet daily's editor-in-chief Can Dundar and Cumhuriyet daily's Ankara bureau chief Erdem Gul  who had accused the government of aiding terrorists in Syria.
Many rights groups from across the globe have been calling on Western countries to press Turkey on the issue of human rights.
Trials for insulting Erdogan have multiplied since he was elected to the presidency in August 2014, with approximately 2,000 such cases currently open in Turkey.
The developments also come as EU officials are accused of compromising on freedom of expression in order to ensure Turkey's continued co-operation to tackle the refugee crisis.
The New York-based Human Rights Watch (HRW) has recently urged the leaders of the European Union to get a correct understanding of the desperate situation of refugees at the Turkish-Syrian border and rethink a controversial deal they reached with Turkey for deportation of the asylum seekers.