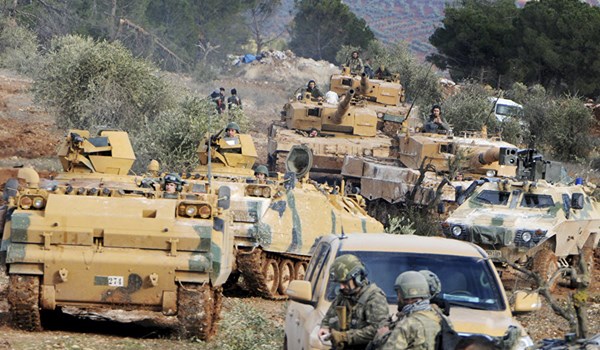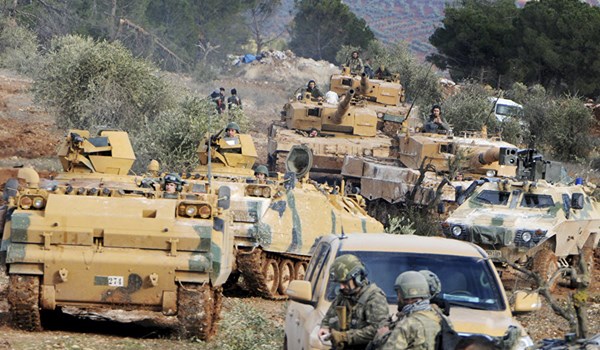 The Turkish Army forwarded a large military convoy to Hatay region near the border with Syria on Saturday as the Damascus forces are preparing to kick off a major operation against terrorists in Idlib.
The Turkish army dispatched a long convoy, including tanks, advances weapons and military vehicles to Hatay province at the border with Syria's Idlib province.
The newly-arrived convoy is planned to enter Syria soon to be further sent to two monitoring points in Tal al-Eis in Idlib and Morek in Northern Hama.
In the meantime, some military analysts pointed to the Turkish troops' backup for the terrorist groups in Idlib, and said the newly-arrived convoy of arms and ammunition might be transferred to regions that are under the control of Tahrir al-Sham Hay'at (the Levant Liberation Board or the Al-Nusra Front).
The terrorist groups in Northwestern Syria are getting ready to counter Syrian Army operation as the government forces are to launch a massive operation that could involve terrorists in Idlib, Hama, Lattakia and Aleppo provinces.
Media activists in Northern Syria reported on Thursday that a military convoy of the Turkish army, consisting of several trucks carrying prefabricated walls and checkpoint kiosks, arrived in Idlib through Kafr Lousin passageway at the Syrian-Turkish border.
They added that the convoy was then sent to the town of Murak in Northern Hama that is patrolled by Turkey, saying that the Turkish forces have strengthened their positions.
According to the report, the convoy entered Northern Hama after a number of Turkish officers held a meeting with commanders of the terrorist groups when they entered Southern Idlib.