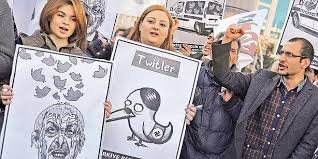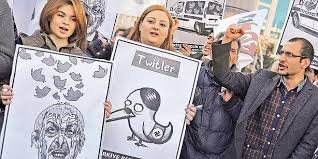 An Ankara administrative court has issued a stay of execution on Prime Minister Recep Tayyip Erdogan's controversial decision to block access to Twitter.
The move comes just six days after Turkey's telecommunication's authority blocked access to the popular social networking service following the PM's vow to "to wipe out Twitter" ahead of elections.
A number of complaints were filed challenging the controversial ban last week.
The Union of Turkish Bar Associations , the Ankara Bar Associations, and Nationalist Movement Party Deputy Parliamentary Group Chair Oktay Vural were among those who applied to the administrative court to challenge the ban, Turkey's Hurriyet daily reports.
The Constitutional Court is expected to review individual applications pertaining to the ban on Wednesday.
On Friday, Turkey blocked Twitter hours after Erdogan threatened to close it down as the country braces for contentious local elections on Sunday.
"We now have a court order. We will wipe out Twitter," the Turkish leader told a crowd of supporters during a campaign rally in the northwestern city of Bursa on Thursday.
"I don't care what the international community says. They will see the Turkish republic's strength," Erdogan added.
According to the Press Advisory of the Prime Ministry, Twitter officials are currently ignoring court rulings demanding they remove some links.
"[In Erdogan's speech] it is stated that as long as Twitter fails to change its attitude of ignoring court rulings and not doing what is necessary according to the law, technically, there might be no remedy but to block access in order to relief our citizens," the statement said, as quoted by Hurriyet.
On Friday, Industry Minister Fikri Isik said Twitter must get a legal representative in Turkey and agree to block individual accounts if it is to hammer out a compromise solution to the problem which has led the government to block access to the service.