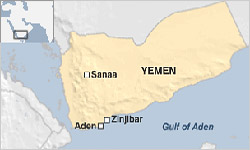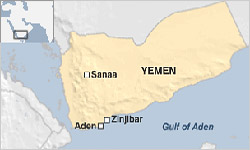 Yemen's media disclosed that Turkish Ambassador to Sana'a Fazli Corman has been facilitating arms trafficking to Yemeni tribal leaders and terrorists.
According to the Yemeni al-Jomhouriyah daily, the kidnapping of three European tourists in Yemen disclosed Corman's role in brokering arms deals with terrorists in Yemen, which included the supply of different weapons, including pistols with mufflers.
The report said some of these smuggled cargos were discovered and seized by the police and security forces in many parts of Yemen.
The Yemeni daily also said that the tribal groups had signed deals with the Turkish ambassador to buy hi-tech weapons, adding that Corman is only responsible for the safe transfer of the arms cargos to the Yemeni ports and then the weapons will be distributed among the tribal leaders by a number of Yemeni statesmen.
An unmanned source told al-Jomhouriyah that after one of the weapons cargos was confiscated, the three European tourists were taken hostage to force the Yemeni government to deliver the seized weapons to the tribal leaders.
The first report of gun shipments from Turkey to Yemen was in March 2012, when the UAE police said it seized 16,000 Turkish-made guns destined for Yemen. Immediately, there were some talks that Turkey was supporting the rebels in Yemen, and the Turkish foreign ministry had to ban weapons exports to Yemen.
But history repeated itself and eight months later, another shipment of weapons arrived in Yemen from Turkey. The ship carrying the container with biscuit crates full of guns made a stopover in the Saudi port of Jeddah. Turkish officials suggested the guns might have been loaded there. But documents showed that the container wasn't opened at Jeddah, which means they were loaded at the Turkish port of Mersin.
With the load seized in March, it appeared that there is a serious flow of weapons from Turkey to Yemen. There is another clue: Of the weapons seized this time, only 350 were ready for use. The other 3,000 guns were not complete. There were 3,000 barrels, but fewer grips. This indicated that the grips for these barrels were sent in another shipment.
The biscuit crates containing the weapons made up 20% of the total load of that container. The crates were at the bottom of the load, requiring the opening of all the crates on top before the weapons were found.