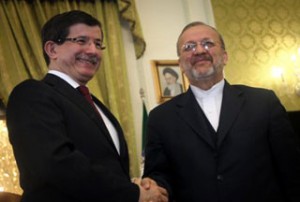 Turkey's Foreign Minister Ahmet Davutoglu is reportedly planning a quick trip to Iran, coinciding with a visit by Brazilian President Luiz Inacio Lula da Silva for nuclear talks.
"Davutoglu received a call from Mottaki who invited him to come to Tehran as soon as possible, preferably to coincide with the visit of the Brazilian President," a Turkish diplomat speaking on condition of anonymity told AFP.
Iranian Foreign Ministry spokesman Ramin Mehmanparast confirmed on Saturday that Davutoglu would be meeting with his Iranian counterpart Manouchehr Mottaki in Tehran on Sunday.
President Lula has been against the imposition of new UN Security Council sanctions against Tehran. His visit, which the US and Russia have billed as Iran's "last chance" to avoid a fourth round of tougher sanctions, is also planned for on Sunday.
Iran has voiced readiness to enter talks and reach a nuclear fuel swap deal and welcomed "constructive" suggestions by non-permanent UNSC members Turkey and Brazil.
Washington and its allies accuse the Islamic Republic of pursuing a covert military nuclear program — a charge Tehran has repeatedly denied.
Iran argues that it has the right to a civilian nuclear program as a member of the International Atomic Energy Agency (IAEA) and signatory to the Nuclear Non-Proliferation Treaty (NPT).