Turkey
Turkish police fire teargas at people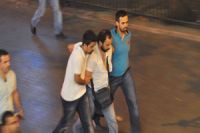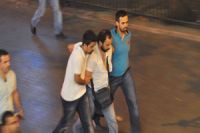 Turkish police forces have used teargas and water cannons against anti-government protesters holding a demonstration in Istanbul.
According to AFP, on Wednesday, around 500 protesters staged a demo in Taksim square where four people were reportedly injured after police tried to disperse the crowd.
The protesters shouted "We'll resist until we win," and "This is only a beginning, we'll continue to fight."
Over the past couple of weeks, tens of thousands of anti-government protesters held demonstrations in tens of cities across the country.
According to the Turkish police, around 2.5 million people have taken to the streets in nearly 80 cities for three weeks to demand the resignation of Turkish Prime Minister Recep Tayyip Erdogan.
The unrest in Turkey began on May 31 after police broke up a sit-in held at Taksim Square to protest against the demolition of the park.
So far, five people have been killed and more than 8,000 people have been injured in the unrest.