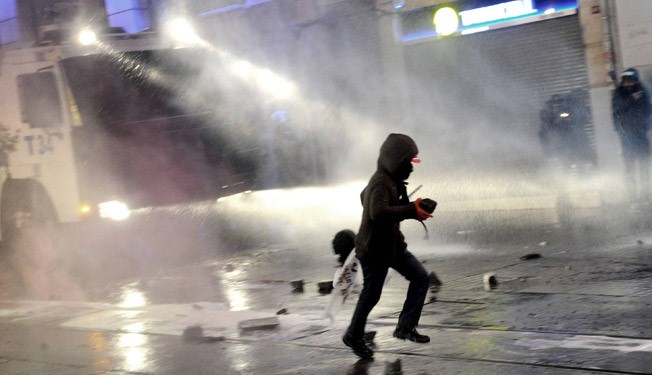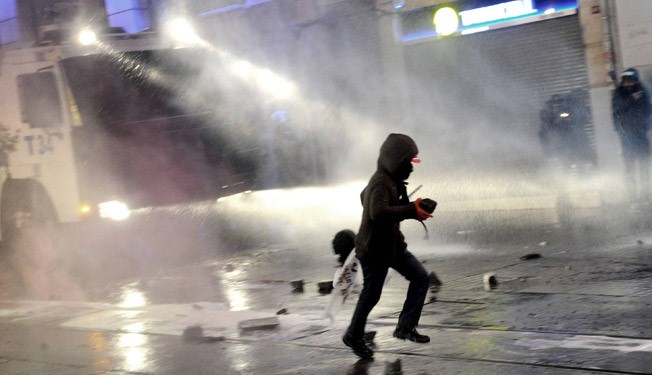 Turkish riot police have used tear-gas grenades and water cannon to disperse more than 2,000 people demonstrating against new internet restrictions.
Large numbers of police with body armor and shields backed up by armored water-cannon lorries deployed against the chanting, mostly young crowd around Istanbul's Taksim Square on Saturday.
The demonstrators hurled firecrackers and stones at police officers who cordoned off the public square.
They smashed windows and sprayed anarchy signs on banks, pursued by police down side streets off the central Istiklal Boulevard.
"They want to control what we do on the Internet. It's repression. But the young will not be repressed, we won't take it lying down," one demonstrator, Semih, complained.
President Abdullah Gul is under pressure not to ratify the legislation, passed on Wednesday by parliament, which would allow authorities to block websites for privacy violation without a court decision.
Internet providers would also be forced to keep users' data and make them available to authorities.
Many also denounced a corruption scandal involving former cabinet ministers and called on the government to resign.
Critics of the restrictions say restrictions are an attempt by Prime Minister Recep Tayyip Erdogan, 59, to stifle dissent and stop evidence of high-level corruption being seen online.
The timing in particular raised eyebrows because it comes as Erdogan deals with the corruption scandal implicating his inner circle.
Human Rights Watch, the New York-based rights organization, said the restrictions raise concerns that a "defensive government is seeking to increase its power to silence critics and to arbitrarily limit politically damaging material online".