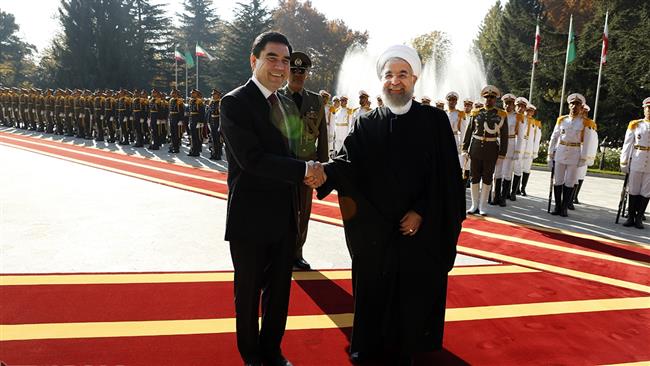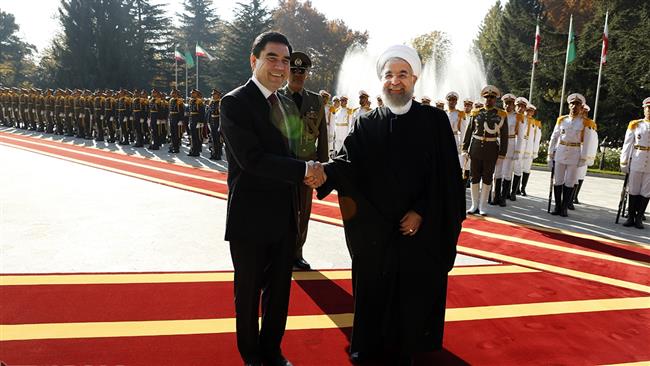 Iran and Turkmenistan have decided to raise their annual trade to $60 billion over the next decade, President Hassan Rouhani says.
The Iranian president on Sunday received his Turkmen counterpart Gurbanguly Berdimuhamedov in Tehran where heads of states of several countries are descending for the most high-profile summit of gas exporting countries.
Bilateral trade has not surpassed $5 billion, first recorded in 2013, but officials of the two countries say the $60 billion target is achievable given enormous potentials which exist for cooperation.
Iran buys almost a third of Turkmenistan's exported gas for heating in winter and other use in the country's northern provinces which are far from southern hydrocarbon fields.
There is also a railway link between the two neighbors, stretching over 926 kilometers up to Kazakhstan. It is emerging as a vital route to link the Central Asia to the Persian Gulf and beyond.
Iran and Central Asian nations have stepped up work on establishing an integrated freight railway network to link Asia to the Persian Gulf, Europe and Africa.
In their talks on Sunday, Turkmen and Iranian presidents underlined further cooperation in the fields of industry, agriculture, tourism and electrical power, the IRNA news agency said.
Rouhani said the two sides discussed bartering Turkmen gas for Iranian engineering and technical services.
They also talked about possible cooperation on exploring and developing joint oil and gas fields in the Caspian Sea, the Iranian president said.