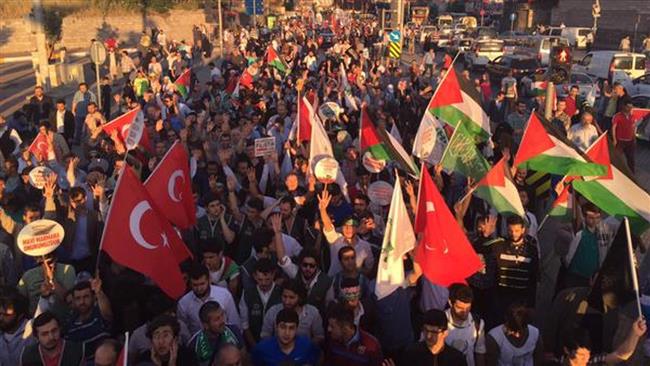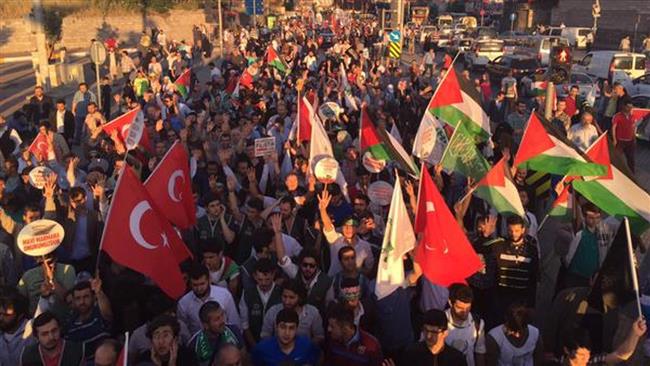 Tens of thousands of protesters have held a rally in the Turkish city of Istanbul to commemorate the anniversary of Israel's 2010 attack on a Gaza-bound aid ship that left 10 Turkish activists dead.
The rally was held on Sunday with the demonstrators assembling at a mosque in the Istanbul district of Fatih for the commemoration event. After holding prayers inside and outside the mosque, they listened to an address by the father of one of the victims.
On Sunday morning, young activists displayed in a play the pains caused by the Israeli separation barrier for the Palestinian people as well as the Israeli forces' treatment of Palestinians.
Activists also took a bike tour of Istanbul with Palestinian and Turkish flags, and banners, to remember those who lost their lives in the brutal raid while in the evening people, shouting pro-Palestinian slogans, marched to the graveyard where the victims are put to rest. The commemoration event ended after prayers in the graveyard.
"Although five years have passed since the incident, the motivation of people to achieve justice is alive more than ever," an activist was quoted by media reports as saying.
On May 31, 2010, Israeli commandos attacked the Turkish-flagged MV Mavi Marmara that was part of the Freedom Flotilla in the high seas in the Mediterranean Sea, killing nine Turkish citizens, including a teenager with dual Turkish-US citizenship, and injuring about 50 other people who were part of the team on the six-ship convoy. A 10th died recently after four years in a coma.
The flotilla was attempting to break the Israeli naval blockade of the Gaza Strip, carrying aid to the Palestinians in the impoverished enclave.
Gaza has been blockaded since June 2007, which has caused a decline in the standards of living, unprecedented levels of unemployment, and unrelenting poverty.
The attack sparked international outcry but has been no side effect relations between Israel and Erdogan regime. Moreover the economic, military and intelligence relations between Tel Aviv and Ankara has boosted during that time.