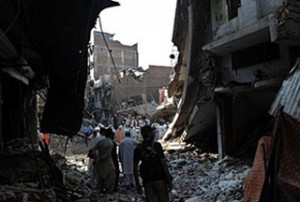 Amid a rising wave of coordinated assaults in Pakistan, two separate bomb blasts have killed at least 14 people and wounded 40 others in the country's restive northwest.
In the early hours of Friday, a car bomb went off outside the headquarters of Pakistan's Inter-Services Intelligence (ISI) Agency in the northwestern city of Peshawar
The blast killed at least 11 people and injured 35 others, according to a Press TV correspondent.
The bomb almost completely destroyed the ISI building.
The incident led officials to declare a state of emergency in the city.
Meanwhile, three policemen were killed and five others wounded when a bomb ripped through a police station in the city of Bannu.
The incidents were the latest in a series of bomb attacks on security-related buildings in Pakistan. Pro-Taliban militants in the mountainous northwestern areas say the attacks are in retaliation to a crackdown launched against them by the Pakistani army.
The bomb attacks came as the Agency has been overseeing much of the anti-terror campaign in the border regions with Afghanistan.
The Pakistani army says over 524 militants and around 54 soldiers have been killed since the crackdown began on October 17. The operation has displaced more than 250,000 people and the UN has asked Pakistan to ensure the safety of civilians during the offensive.
Since the beginning of the year, 1,780 citizen and 780 security officials have been killed in the nuclear-armed country, while the number of the terrorists claimed to have been killed in counter-terrorism operations has reached 5,972.