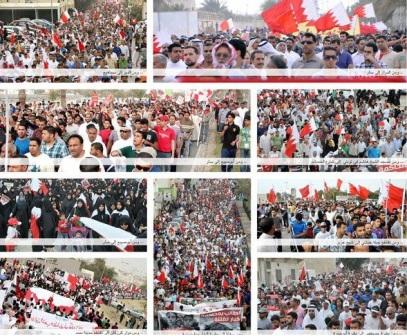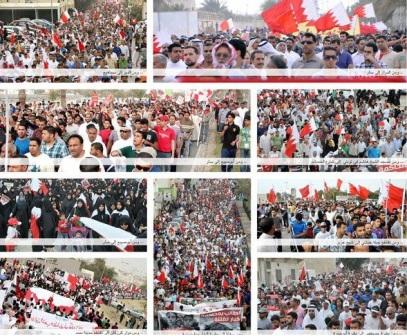 Two Bahrainis martyred from inhaling toxic tear gas fired by Zionist Puppet Bahraini regime forces, one day after thousands of people marched in 10 rallies across the country.
Activists said on Saturday that 31-year-old Ahmad Abdul Nabi was killed during a protest rally in the western village of Shahrakan, prominent opposition group said.
Meanwhile, a woman named Abda Ali Abdul Hussein,59, died on Friday after inhaling gases in the village of Jid Hafs, near the Bahraini capital Manama, al-Wefaq said, again citing family members.
Activists also said dozens more were wounded after security forces fired tear gas and used water canon to break the protest. Clashes were also reported between regime forces and protesters as thousands rallied in villages around the capital, Manama.
Thousands of people marched in 10 rallies organised by five opposition parties lead by Al Wefaq, Bahrain's largest opposition political organisation in Bahrain.
The demonstrators protested against the government's brutality and called for the ouster of the al-Khalifa regime.
Thousands of Bahrainis took to the streets across the country to take part in the funeral procession of those killed in recent regime crackdown on protesters.
In the town of Diraz, the protesters called for the trial of those who demolished places of worship.
These developments came days after 16-year-old Ali Sankees was found in a store with his hands tied behind his back after being tortured and raped by regime security forces.