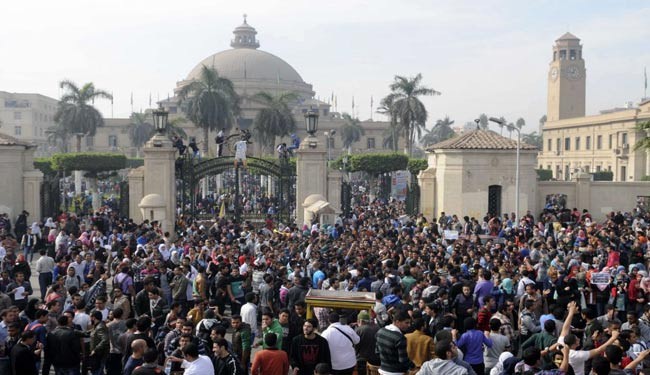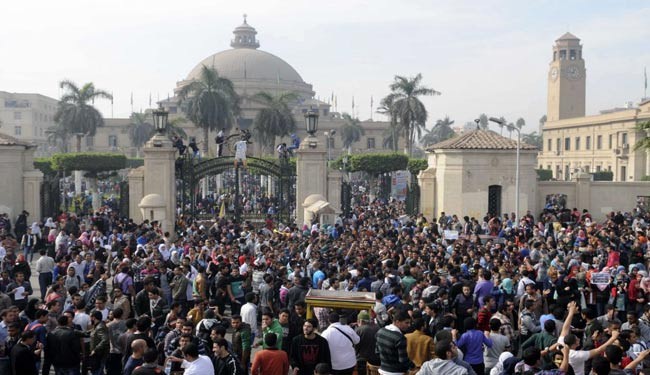 Two explosions have reportedly occurred at Cairo University in the Egyptian capital, killing at least one person and injuring three amid continuing unrest in the country following declaration of presidential candidacy of the country's recent military chief Abdul Fattah al-Sisi.
The blasts took place Wednesday morning and cause part of a building in the major university to collapse, Egyptian state television reported.
This is while the university's engineering building is currently being evacuated.
Egyptian universities have become a key venue for anti-government protest rallies in support of the country's only freely-elected president Mohamed Morsi, who was forced out of office and jailed by al-Sisi-led military.
Clashes have frequently broken out between pro-Morsi students and security forces at universities in Cairo and other cities since the beginning of the new semester, which was delayed for three weeks due to security concerns.
Two students died in clashes between protesters and police earlier this week at Al-Azhar University in Cairo.
On 20 March, engineering students started a strike in protest at on-campus violence the day before, in which security forces clashed with pro-Brotherhood students.
Also on March 20, explosives experts defused two bombs at the law faculty of Cairo University.
In February, the military-led interim government issued a decree allowing security forces to enter campuses and granting university administrators the right to expel any protesting students.