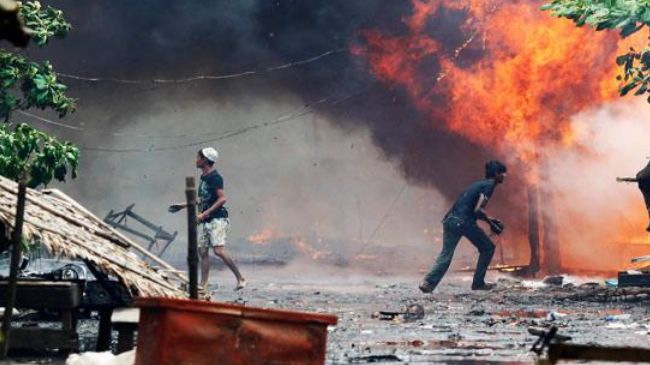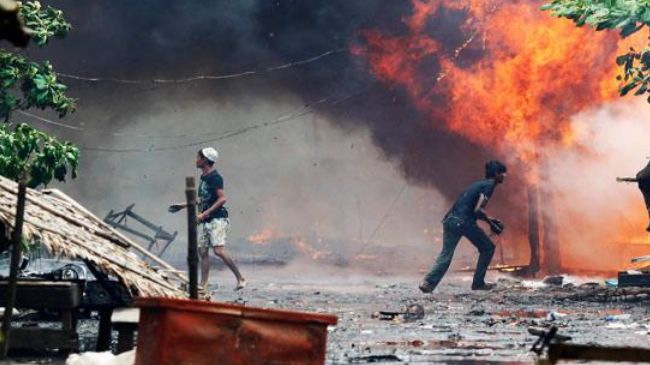 At least three people in Myanmar have been killed with five wounded as extremist Buddhists set fire to several mosques in the city of Meiktila.
Clashes erupted late on Wednesday between extremist Buddhists and Muslim Rohingyas, according to a report issued by the Myanmar Police Force.
Police imposed an overnight curfew to control the situation, saying that at least three mosques had been destroyed.
"The situation is unpredictable," said a local man, adding, "I can't guess what will happen next. The violence could get worse."
The unrest comes amid heightened tensions between the two sides which have left at least 180 people dead and more than a 100,000 Muslims displaced since June 2012.
On October 21, 2012, at least 11 Rohingya Muslims in Myanmar were killed after extremist Buddhists set fire to their houses in two Muslim villages in the city of Sittwe in the western Rakhine state.
The silence of the human rights organizations toward abuses against the Rohingya Muslims has emboldened the extremist Buddhists and Myanmar's government forces.
The Buddhist-majority government of Myanmar refuses to recognize Rohingyas and has classified them as illegal migrants, even though the Rohingyas are said to be Muslim descendants of Persian, Turkish, Bengali, and Pathan origin, who migrated to Myanmar as early as the 8th century.