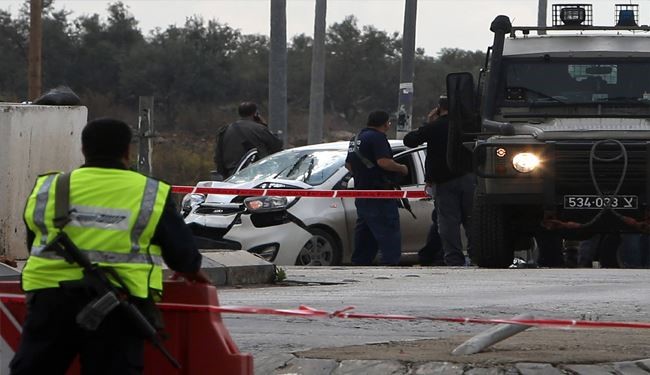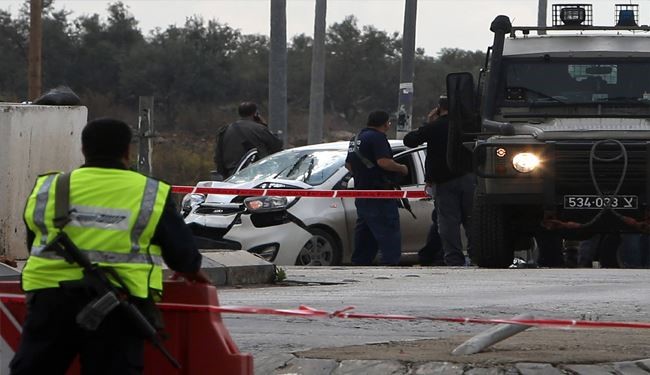 In their latest acts of violence against Palestinians in the occupied territories Israeli forces have shot dead two Palestinians in the occupied West Bank.
The first shooting occurred on Sunday near a junction south of the city of Nablus, with Israeli forces claiming that the victim had rammed a group of Israelis with a car, Palestinian Ma'an news agency reported.
According to Israeli media, three Israelis were injured in the incident, while a fourth was shot and injured in the leg. Israeli public radio has said that two of the wounded are in critical condition.
The Palestinian agency, meanwhile, added that Israeli forces shut two checkpoints south of Nablus following the incident. The checkpoints control one of the main routes that link the northern occupied West Bank to the central and southern districts.
Also on Sunday, Rabid-dog israeli soldiers shot and killed a Palestinian woman after alleging that she carried out a knife attack in the West Bank, Palestinian media reported.
Tensions in the occupied territories have dramatically escalated in recent weeks due to Israeli regime's imposition of restrictions in August on the entry of Palestinian worshipers to the al-Aqsa Mosque compound in East al-Quds (Jerusalem).
Meanwhile the US president and the Israeli prime minister will meet at the White House this week amid growing tensions. Among the topics the two will discuss are Iran and the ongoing violence between Israelis and Palestinians.
Israeli War Planes Attack Gaza Strip
Israeli war planes have launched an attack against a site allegedly belonging to Palestinian resistance movement Hamas in the southern part of the besieged Gaza Strip.
The attack happened in the early hours of Monday with warplanes targeting the city of Khan Yunis in the coastal strip.
So far, no reports of casualties have been released by Israeli forces or Palestinian authorities.