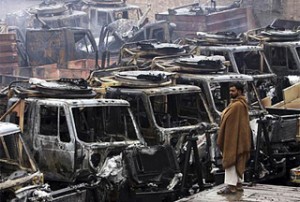 Pakistani suspected pro-Taliban militants have destroyed two oil tankers carrying fuel for NATO forces in Afghanistan.
Police officials told Press TV that armed militants set fire to tankers on the outskirts of Quetta, the capital of southwestern province of Balochistan on Sunday.
The tankers were coming in from Karachi and as it neared a hotel, men in a pick-up opened fire on them.
It was the second incident of torching of NATO tankers in Balochistan in the past four days.
No group has claimed responsibility for the attack as of yet.
Suspected pro-Taliban militants frequently attack oil tankers and trucks bringing goods from the port city of Karachi.