Middle East
North America
UAE-israel deal to normalize ties only serves Trump, Netanyahu: Senior Hamas leader
The political bureau chief of the Palestinian Hamas resistance movement has condemned the recent US-brokered agreement between the United Arab Emirates (UAE) and Israel, describing American President Donald Trump and Israeli Prime Minister Benjamin Netanyahu as the sole beneficiaries of the accord.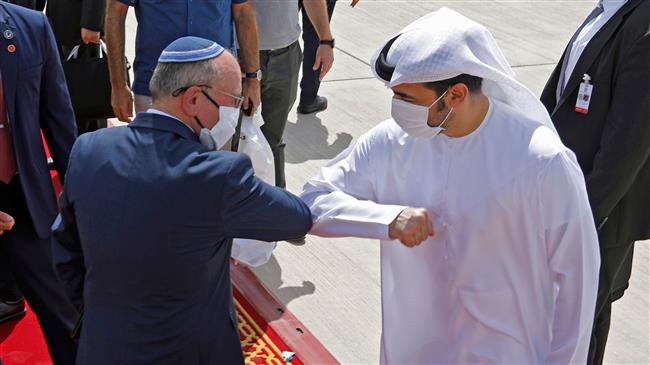 Speaking in an exclusive interview with Lebanon's al-Manar television network on Tuesday night, Ismail Haniyeh decried the Abu Dhabi's decision to normalize relations with the Tel Aviv regime as "unjustifiable," saying that the deal serves the interests of neither the Palestinian nation nor the UAE itself, but rather benefits Trump and Netanyahu.
He noted that Palestinians must unite against Israel's settlement expansion policies as well as its plans to annex large parts of the occupied West Bank, adding a recent conference held by leaders of various Palestinian factions came in the same context.
Abu Dhabi claims the normalization deal, which was announced by the White House on August 13, is a successful means to stave off annexation and save the so-called two-state solution to the Israeli-Palestinian conflict.
Israeli leaders have lined up to reject the bluff, with Prime Minister Benjamin Netanyahu saying the deal has only put the annexation plan on hold and the scheme is not off the table.
The Palestinians have vehemently censured the UAE-Israel peace deal, which runs counter to a long-standing Arab consensus that any normalization of ties with the Tel Aviv regime has to come in the context of the settlement of the Israeli-Palestinian conflict and the establishment of a sovereign Palestinian state.
They say the UAE, as an important Arab player in the region, has stabbed fellow Palestinians in the back.
Haniyeh further said ties between Hamas and Saudi Arabia have deteriorated further, renewing a call for the regime in Riyadh to free the Palestinians in Saudi prisons.
In March 2018, Saudi authorities carried out an arrest campaign targeting a group of Palestinians and Jordanians who had been living in the kingdom for a long time, based on vague allegations of supporting an unnamed "terrorist entity."
The prisoners' families confirmed that they could not obtain additional details about the accusations or specific evidence from the criminal indictments, which Saudi authorities presented during the first session of the trial.
Back on March 22 this year, Haniyeh, in a letter addressed to Saudi Arabia's King Salman, urged the monarch to make a quick decision and order the release of Palestinian inmates.
Hamas part of resistance axis against Israel
Elsewhere in his remarks on Tuesday night, Haniyeh hailed Syria for standing by the Palestinian cause.
"We hope Syria could restore its security and stability since this would support the Palestinian cause," the senior Palestinian official pointed out.
Hamas, Haniyeh added, is part of the axis of resistance against the Zionist regime in the region.