Europe
World News
UK Brexit minister David Frost resigns, dealing major blow to embattled PM
British Brexit minister David Frost has resigned from the government, dealing a major blow to embattled Prime Minister Boris Johnson.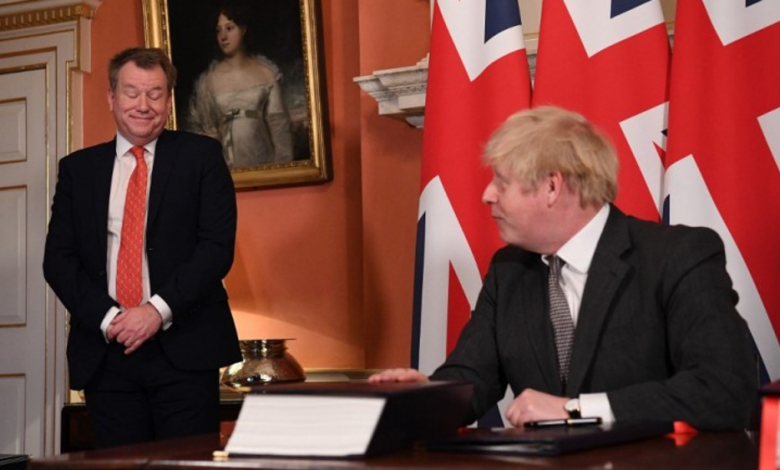 The introduction of plan B coronavirus measures as well as a broader discontent with tax rises and the cost of environmental policies are what prompted Frost's decision, according to the Mail on Sunday.
Frost, who has led negotiations with the European Union, reportedly handed in his resignation letter to Johnson last week, but was persuaded to stay on until January, the newspaper reported.
"It is disappointing that this plan has become public this evening and in the circumstances I think it is right for me to write to step down with immediate effect," he said in a letter, published by Johnson's Downing Street office.
In addition to adding to a sense of turmoil in Johnson's Conservative government, Frost's resignation raised questions about the future tone of the EU divorce and the immediate course of negotiations on Northern Ireland.
Frost said he was confident that Brexit was secure, but in a speech last month, he expressed his clear dissatisfaction with the course of post-Brexit British policy.
"We have not successfully rolled back the frontiers of the European Union from Britain with Brexit, only to import that European model after all this time," Frost said in a speech at the Margaret Thatcher Conference on Trade on Nov. 22.
In his letter, he also noted he was worried about the government's direction.
"You know my concerns about the current direction of travel," Frost told Johnson in the letter.
"I hope we will move as fast as possible to where we need to get to: a lightly regulated, low tax, entrepreneurial economy, at the cutting edge of modern science and economic change."
The latest development comes on top of warnings from some of the premier's own Conservative Party lawmakers that Johnson must improve his leadership or face a challenge.
He is reeling from a rebellion by 100 of his MPs in a parliamentary vote over coronavirus measures and the stunning loss of a 23,000-majority seat in a by-election.
That was partly blamed on reports that his staff and aides broke Covid rules last year by holding several parties around Christmas despite the public being told to cancel their festive plans.
Meanwhile, the opposition Labour Party said the government was in disarray, adding Johnson should provide clarity on what would happen in negotiations with the bloc over the Northern Irish Protocol, a part of the divorce deal.
"Boris Johnson needs to get a grip, tell us his plan for the next few weeks and bring certainty for the people of Northern Ireland by unblocking the stalemate over the Protocol," said Jenny Chapman, Labour's shadow minister of state at the Cabinet Office.